Medicinal and nutricional benefits of holm oak
Components of holm oak
The main components of holm oak are:
Acids: palmitic, stearic, oleic and linoleic acid (Fruit = acorn)
Starch: + 60% (fruit = acorn)
Sugars: + 4% (Fruit = acorn)
Monoterpenes: alphapinene, betapinene, sabinene, myrcene (leaves)
Tannins (Bark)
Tannic and gallic acids (gills)
Pectin (Fruit = acorn)
Minerals: calcium, potassium, magnesium, phosphorus, manganese, zinc, nitrogen, copper, sodium (Plant)
Water (plant)
MEDICINAL PROPERTIES OF HOLM OAK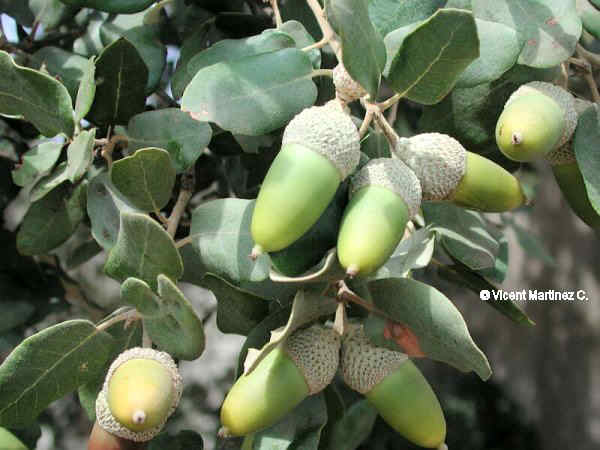 Photos of holm oak (Quercus ilex). Detail of the leaves and the fruits (acorns)
The medicinal properties of this tree come from its wealth in tannins, especially its acids. Tannins play a healing role in accelerating the wound healing and performing hemostasis (stopping the flow of bleeding).
The healing occurs by the formation of crusts by binding proteins with tannins and create a "dry" environment that prevents bacterial growth. By constricting blood vessels, they help blood clotting and, therefore, they contribute to the healing of wounds.
Besides, tannins have many more uses in herbal medicine for external use. These principles have applications in cosmetics and are useful for external skin care, helping to cure pimples, blackheads or contributing to the elimination of the fat in the skins that present excess of it, etc.
Holm oak internal preparations
Preparations for internal use of this plant can be toxic so they can only be taken under medical supervision. (See toxicity of the oak). Holm oak can be used for the treatment of the following anomalies:
Digestive system: Among the main diseases that can be remedied with this plant we have:
Inflammations of the intestine: Its tannin content turns out ideal for the treatment of enteritis (inflammation of the intestine), contributing to reduce the inflammation and to diminish pain. (Decoction of about 50 gr. of dry crust by liter of water. During one week take a spoonful from this decoction sweetened with honey before going away to sleep) (Infusion of average teaspoon of dry leaves by water cup. To drink three cups to the day between the main meals)
Indigestion: To combat bad digestions the preparations with this plant can help to digest food better. (Roast a handful of acorns, grind them very fine and make coffee roasted acorn powder. You should not exceed two cups a day)
Diarrhea: The astringent properties of tannins to stop diarrhea is evident in the preparations used for this purpose. (Decoction of two tablespoons of dried bark per liter of water. Take a couple of cups a day) (Eat fresh sweet acorns)
External use remedies with holm oak
Externally, the astringent properties of oak bark can be used to stop bleeding and heal wounds, while preventing they to become infected.
The antibacterial function of tannins is mainly produced by depriving microorganisms of the suitable environment to develop. These properties have been used in the external treatment of many physical problems such as:
Toxicity of oaks
Holm oaks and related plants of the genus Quercus (oak, kermes oak, holm oak, etc) have a very high amount of tannins, especially in the cortex, where they can reach up to 20% and a smaller proportion in the leaves and fruit (acorns)
The tannins are irritating for intestinal mucosa and can cause vomiting and even ulcerations. It is recommended, therefore, to use preparations for internal use only under supervision of the physician and never exceed the recommended dose.
Contraindications of oaks
The treatments of preparations for internal use will not have to extend over the 4 days.
The use of preparations with this plant can be contraindicated in case of taking supplements of pectin, iron or some preparations with alkaloids.
For external use, the application should not be performed on very large wounds or extend them beyond the 15 or 20 days.
Nor should baths with these preparations of this plant when patients present infections, fever or heart problems.

More information on holm oak.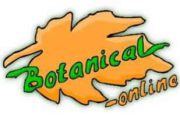 Written by
Editorial
Botanical-online team in charge of content writing