What is a white mustard?
Characteristics of white mustard (Sinapis alba)
Common English name: White mustard
Etymology: the word 'mustard' derives from the Latin "Mustum ardens", which literally means "burning wine". This derives from an ancient preparation made with grape juice and mustard, that had a burning taste.
Scientific name: Sinapis alba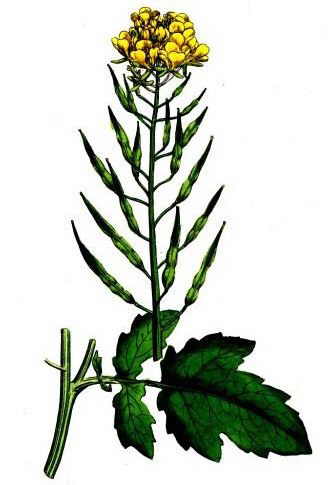 Taxonomic synonym: Bonannia officinalis C.Presl; Brassica alba (L.) Rabenh; Brassica foliosa (Willd.) Samp; Brassica hirta Moench; Crucifera lampsana E.H.L.Krause; Eruca alba (L.) Noulet; Leucosinapis alba (L.) Spach; Napus leucosinapsis K.F.Schimp. & Spenn; Raphanus albus (L.) Crantz; Rhamphospermum album (L.) Andrz. ex Rchb; Sinapis foliosa Willd
*See: White mustard in other languages
Family: Brassicaceae or Cruciferae
Habitat: Native to the Mediterranean region. Currently it distributed in Southern Europe and Central and Western Asia.
We can find wild white mustard in the roadsides, cereals fields, waste places….This plant is also grown for its seeds.
Botanical description of white mustard
White mustard (Sinapis alba) is an annual plant of the Brassicaceae family, a relative of the cabbage and arugula.
Herbaceous plant about 30 to 60 centimeters high.
Stem erect, simple, glabrous, cylindrical and rough to the touch because of its pubescence.
Alternate, petiolated, lobed, oval leaves with serrated margins. The leaves are pubescent like the stem. (10 mm petiole). The basal leaves have a rough petiole. They are winged and with the largest and dentate terminal lobe.
Inflorescence erect. Mustard flowers are stalked, yellow, formed by four crossed petals (characteristic form of Brassica or cruciferous plants). Hermaphrodites. The calyx consists of four equally crossed sepals. It contains six stamens, of which 4 are longer.
These flowers give off a pleasant scent and are good for honey.
The fruit of the white mustard is a nut-shaped pod, a silicua. This fruit has rough hairs on its surface and its ends with a peak.
Inside the silique, there are the tiny seeds of this plant, between 8 and 12 cm long. They are spherical and reddish yellow.
Used parts of white mustard:
Seeds: to produce mustard oil, spices and mustard flour, which is used in herbal medicine.
Sprouts: in some countries like France, delicious salads are prepared with the germinated white mustard seeds.
Tender leaves before flowering : They are edible for human consumption. You can take them in salads or soups. They are also used for animal fodder.
Cattle can not eat the plant when it has developed fruits, as they could be poisoned by glucosinolates.
Composition of white mustard
Essential oil: hydroxybenzyl-isothiocyanate, allyl isothiocyanate.
Glucosinolates: mainly sinalbin or sinalboside (5%). Responsible for the peculiar burning taste of white mustard. a more more complex than sinigrin present in the common mustard or black mustard (Brassica nigra) (. These components are not so aromatic and, therefore, white mustard is less pungent than black mustard.
Mironic acid, which, in contact with water (or saliva) becomes the enzyme myrosinase. This enzyme is a component in contact with glucosinolates, transforms them into other components called isothiocyanates, with antioxidant action.
Isothiocyanate: hydroxybenzyl isothiocyanate, allyl isothiocyanate (mustard white essence).
Erucic acid has been shown to have toxic effects on health. For this reason, mustard oil is not intended to food.
Alkaloid: Sinapine. It gives the white mustard a characteristic bitter taste. Chemically it is an ester of sinapic acid and choline.
Nitrates: Under certain conditions, the plant can contain toxic nitrates.
Carbohydrates: arabinose, cellulose, fructose.
Beta-sitosterol (helps reduce cholesterol)
Vitamins: Vitamin C, beta carotene (leaves), riboflavin, niacin
Organic acids: glucuronic acid (detoxifier, protector of the liver).
The leaves of the plant are also rich in oxalates and contain glucosinolates. They reach their highest level of glucosinolates when the plant is in bloom. It should not be used to feed the animals because glucosinolates are toxic to livestock.
Botanical classification

Kingdom

Plantae

Subkingdom

Tracheobionta

Vascular plants

Superdivision

Spermatophyta

Seed plants

Division

Magnoliophyta

Flower plants

Class

Magnoliopsida

Dicotyledonous

Order

Brassicales

Family

Brasicaceae

Gender

Sinapis

Species

S. alba
MEDICINAL PROPERTIES OF WHITE MUSTARD
Medicinal white mustard applications are the same as with the common mustard (Brassica nigra) but less potent effects. This is because white mustard contains more complex glucosinolates, less volatile, less tear-producing and less irritant than common mustard. (See common mustard properties)


More information on mustard.
This article was endorsed by
Montserrat Enrich
- Journalist specializing in edible wild plants and plant uses.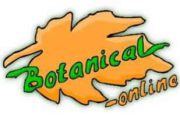 Written by
Editorial
Botanical-online team in charge of content writing