Convolvulus arvensis L.
Field bindweed
PHOTOS OF FIELD BINDWEED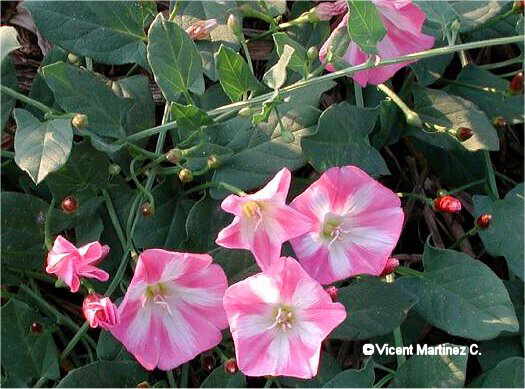 Photo of Convolvulus arvensis L.
Convolvulus arvensis L. - (Field bindweed)
Perennial herb of the binweed family -Convolvulaceae- till to 2 m. long. Clambering or creeping liana growing from slim rhizomes. Saggitate leaves till 5 cm long. petiolated. Funnel-shaped leaves, white or with pink bands, stalked till 3 cm wide. 5 sepals, non- acute, glabrous. Fruit in capsule. By the side of the paths, grasslands and cultivated lands.
More information about plants in the listing above.
Other interesting articles
This material is for informational purposes only. In case of doubt, consult the doctor.
"Botanical" is not responsible for damages caused by self-medication.