Characteristics of milk
Milk is an opaque white, slightly sweet taste liquid , secreted by the mammary glands of female mammals for feeding a new baby.
In case of speaking a non cow milk, we must include the name of the animal from which it proceeds to differentiate them. Apart from cow mill, no other name can refer to milk. This is the case, for example, of the so-called "soy milk" which is an incorrect term . To refer to this food in a proper manner, we should call it "soy drink".
Milk has an excellent nutrient content. In fact, it is considered the most complete food. It provides mammals all essential amino acids till weaning without causing them food shortages and energy, as well as immune system boosters
These positive effects are achieved by the modulating glucose production that provides the necessary energy and protection against foreign agents that come into the mammals bodies
All these functions are provided to young mammals during the first months of life, as they exclusively feed during this period of time with milk from their mothers.
Origin, history, production and consumption of milk
The origins of milk consumption goes back to 11,000 years ago, when humans began to be nomadic herders and get this food from their animals.
Sheep and goats were the first milked animals, Some years later, cow's milk consumption was introduced and some derivatives of this food were obtained from fermenting milk.
What are the milk components?
The chemical composition of milk contains carbohydrates, proteins, fats, vitamins, essential chemical elements and water, but it has certain differences depending on the species of mammals of which it comes from:

"Milk" is usually referred to cow's milk, while other animal milks are recognized when the particular type of milk is named (goat milk, donkey milk, buffalo milk, sheep milk, etc.)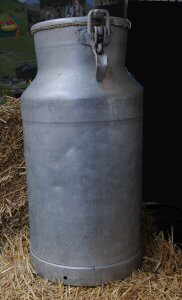 It is common to find aluminum milk containers in many rural places