Animation of movement of leaves of Mimosa pudica
ANIMATIONS OF PLANTS
Observe the following animation of the movement of Mimosa pudica: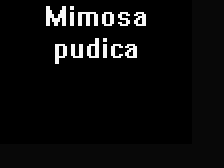 "The leaves of Mimosa pudica react to human touch, closing themselves as they are touched."
This represents an approachment to the "sensibility" of animal world.
Film of movement of leaves of Mimosa pudica
Do you want to donwload the film?
Download film
More Information

More information about plants in the listing above.
Other interesting articles
This material is for informational purposes only. In case of doubt, consult the doctor.
"Botanical" is not responsible for damages caused by self-medication.