Vegetation of Montseny natural park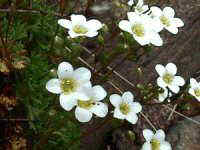 Types of plants at  Montseny
There is not only the vegetation related to the Mediterranean zone, with holm oak, cork oak and pine woods but between 1000 and 1500 meters, beech, oak and fir woods grow vigorously. as they do in the center of Europe. From 1500 m. till the summits scrub and grassland vegetation is found with species common to those of the Boreal- Alpine vegetation in the North of Europe.
This diversity of vegetation explains the presence of a great number of species. As a clear evidence of this floral richness, it can be said that approximately the 25% of the catalogued Spanish vascular flora has been located in this area.
We could offer you a great number of plant photographs that live here. We have done a selection. Just click on the photograph to get a bigger image and a botanical description.
Among the most remarkable flowered plants we must refer to the "weed of Saint Segimon" (Saxifraga vayredana Luiz.) Local species of Montseny-Guilleries massif, a plant which only lives in these two Catalan massifs.
Viola bubanii Timbal-Larg.

Scattered along the Atlantic climate zone, it's got the most extreme place in Montseny. From the beginning of March till the end of October it is in bloom. It is very common in heathlands and the clearing of deciduous woods.

Galanthus nivalis L

Because it is covered in flowers very early (In Montseny it starts in then midst of January) and because botanists usually begin to explore in Spring, this plant was unnoticed for a long time. It was the famous Catalan botanist "Font i Quer" (1898-1964) who, doing an excursion with his pupils of the Pharmacy Faculty of Barcelona University, found this precious species as they were climbing up the valley of Gualba. The term "nivalis" refers to the white color flowers and the fact that it can be found in fool bloom in winter snow.

Polygonatum odoratum Druce

It is flowered between May and June. In the Montseny it can be found in the oak groves of medium high mountains.

Potentilla montana Brot

The Montseny is place where many plants, generally found in Atlantic climate, find in the upper parts of this massif a suitable shelter to live in. This species is a good example.

Cistus crispus L.

It is only known a little spot in Montseny, in the outskirts of "Sant Celoni" where this plant can be found. It is flowered between May and June.
TEXT AND PHOTOGRAPHS: PERE BARNOLA


More information about Montseny.
This article was endorsed by
Julián Masats
- Technical agricultural engineer specialized in horticulture and gardening.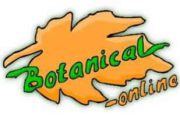 Written by
Editorial
Botanical-online team in charge of content writing