This article was endorsed by
Julián Masats
- Technical agricultural engineer specialized in horticulture and gardening.
Characteristics of mallow family plants
Photo of Malva sylvestris L.
The mallow family -malvaceae – comprises about 1000 species of plants.
They are mainly herbs or little shrubs. Some of them are very important in gardening, such as genera malva or hibiscus.
Many are important as medicinal flowers.
Genus gossypium is the cotton, economically a very important fabric.
Leaves (1): alternate, palmately divided with stipules..
stems (2): generally herbaceous. Seldom ligneous. Hairy or downy.
Flowers:

With radial symmetry. Lonely or in groups, with epicalyx containing 3 or more pieces.

Calyx (3): 5 sepals, joined at the base.
Corolla (4): 5 petals, joined at the base.
Stamens: Numerous, joined below in the shape of a tube around the styles.
Ovary: superior
Fruit: Capsule..

O made by several segments containing a single seed (schizocarp)
Genera
The most important ones are the following:
ABUTILON
ALCEA
ALTHAEA
GOSSYPIUM
HIBISCUS
KOSTELETZKYA
LAVATERA
MALOPE
MALVELLA
MODIOLA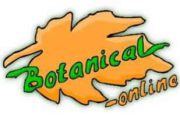 Written by
Editorial
Botanical-online team in charge of content writing