What is a meadowsweet (Filipendula ulmaria) ?
Common English name: drop-wort, meadowsweet, queen of the meadows, bride-wort, lady of the meadow, Dolloff
Botanical name: Filipendula ulmaria (L.) Maximowicz = Spiraea ulmaria L.
Etymology: The term Spiraea refers to its fruits in the shape of a spiral, and Ulmaria refers to the shape of its leaves, which are similar to those of the elm (Ulmus minor).
Taxonomic synonyms:
– Filipendula ulmaria (L.) Maxim. ssp. ulmaria
– Filipendula ulmaria ssp. denudata (J. Presl & C. Presl) Hayek
– Thecanisia ulmaria (L.) Raf.
– Spiraea denudata J. Presl & C. Presl
– Thecanisia discolor Raf.
– Designations now obsolete: Spiraea betulifolia, S. lucida.
Family: Rosaceae
Habitat: Meadowsweet is a very common plant in swamps, marshes, forests and wet meadows, stream banks, river banks and in general, wetlands and limestone. Frost resistant. It can be found at altitudes up to 1,800 m., In full sun or semi-shade, throughout Europe, temperate Asia, and northeastern North America.
Description of Filipendula ulmaria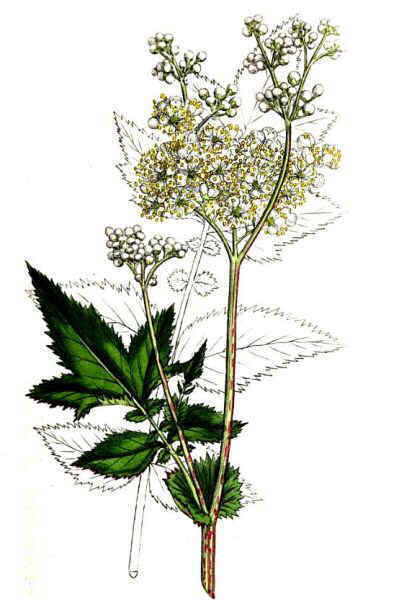 Botanical illustration of meadowsweet
Perennial herb of 0.5 to 1.2m. High reddish stems, erect, rhizomatous. Once established is difficult to eradicate and can form large areas of bushes.
Pinnate leaves with 5-9 leaflets, toothed, dark green, sometimes with purple hues. Silvery undersides of leaves tomentose. The terminal leaflet is bigger and tri-divided. In the leaf rachis tiny leaves are born that fail to develop (see photo).
The inflorescence is a cyme, stalked, containing numerous white or cream-colored flowers. Hermaphrodite flowers (they have stamens and pistils), 5 rounded petals and five sepals, numerous stamens.
They are pollinated by bees and other insects, they are very fragrant and attract different wildlife. The meadowsweet is a honey plant.
It blooms from June to August offering white flowers, which rise on top of the stems, stand out above all the herbs of the field, giving it the name "meadows plant" in various languages.
The fruit is an achene 2mm. Twisted into a spiral, it contains a seed inside. The seeds ripen from August to September.
Used parts of meadowsweet
The whole plant has applications.
History of meadowsweet
Meadowsweet does not appear in the ancient treatises of Dioscorides, because it is not a native plant of the Mediterranean basin, but it is more common in parts of central, northern Europe and Siberia. However, meadowsweet itself was known by the Druids in Central Europe, for whom it is known that it was an important and considered remedy for various ailments.
| | |
| --- | --- |
| Leaf detail of meadowsweet. It can be seen that on the spine or backbone of the sheet tiny leaves are born, a characteristic feature of this plant. | General appearance of the plant. |
Uses of meadowsweet
Composition of meadowsweet
The most active salicylates are in the flowering tops, where the concentration of free salicylic acid is greater. The rhizome is the richest part in gaultherine.
PLANT CLASSIFICATION

Kingdom

Plantae – Plants

Subkingdom

Tracheobionta

vascular plants

Superdivision

Spermatophyta

Seed plants

Division

Magnoliophyta

Flower plants

Class

Magnoliopsida

Dicotyledonous

Subclass

Rosidae

Order

Rosales

Family

Rosaceae

Tribe

Ulmarieae

Gender

Filipendula

Species

Filipendula ulmaria


More information on meadowsweet.
This article was endorsed by
Julián Masats
- Technical agricultural engineer specialized in horticulture and gardening.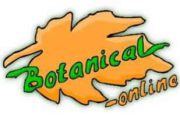 Written by
Editorial
Botanical-online team in charge of content writing