FOOD AND SUPPLEMENTS WITH OMEGA 3 AND OMEGA 6
What are essential fatty acids?
Essential fatty acids (EFAs) are a type of fats that are necessary for the body but can not be synthesized, therefore they must be provided through the diet.
EFAs are necessary to form the membranes of new cells, to make hormones, or to produce anti-inflammatory substances.
EFAs are found mostly in plant foods, such as avocados, walnuts, sesame, and in abundance in all vegetable oils (except in palm oil, palm kernel and coconut).
Among animal foods, oily fish is an important source of omega 3 and its derivatives EPA and DHA.
Types of omega 3 and omega 6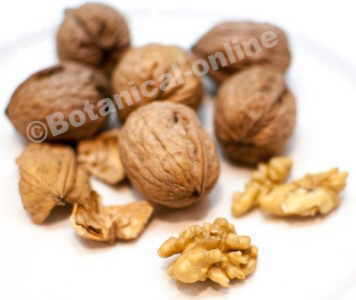 It is recommended to eat seven walnuts each day to get omega-3
Essential fatty acids are popularly known as the family of "omega 3" and the family of the "omega 6". There are different types of omega 3 and omega 6. Popularly, when it comes to omega-3, we mean linolenic acid, and omega-6 refers to linoleic acid.
Both, omega 3 and omega 6, have to go through a series of transformations to become active substances in the body. This means that a number of enzymes must act on them, being responsible for transforming them so they can be used.
This is the main feature of essential fatty acids and the reason for its complexity, since, according to which substances they are transformed, they have an effect in the body or other (anti-inflammatory or inflammatory, for example).
General outline of the sources of fatty acids, their transformations and effects
The issue of essential fatty acids is very extensive and complex. In addition, daily new functions and properties of these substances in the body are discovered.
In the following scheme foods and supplements rich in omega 3 and 6 fatty acids and their properties are shown: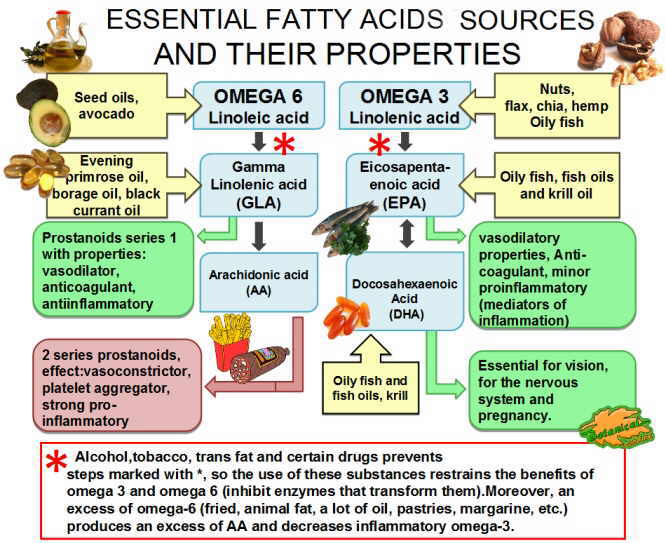 Scheme on foods rich in every type of essential fatty acids. The most potent omega-3 are provided by fish. The most potent omega-6 oils are borage and evening primrose. An excess of animal fats or oils (fried, pastries, meats, etc.) causes inflammation by accumulation of AA.
METABOLISM OF OMEGA 3 AND OMEGA 6
Factors that decrease the effects of essential fatty acids
The problem of transformations of omega-3 and omega-6 is that they can be more or less slow depending on different factors.
For example, alcohol inhibits the enzymes involved in these transformations and prevents the formation of antiinflammatories, therefore it restrains the benefits of omega-3 in the body, causing an inflammatory effect.
The same applies to taking certain medications (such as anti-inflammatories), trans fats, tobacco or alcohol, all substances that prevent the processing and utilization of fatty acids, blocking its anti-inflammatory properties.
Other inflammatory factors in the body
Stress, excessive consumption of animal fats (saturated fat), obesity, type 2 diabetes (insulin resistant), the deficit of magnesium, zinc, biotin, vitamin B6 and other causes such as age, are also factors that disrupt the synthesis of essential fatty acids (inhibit the enzyme delta-6 desaturase responsible for these transformations).
The best foods with omega 3 and omega 6
Foods and supplements of EFAs are considered better or worse depending on the place they occupy in the scheme of transformations to become active substances. Direct precursors (which are GLA, EPA and DHA) are more potent than any omega 3 or 6.
For example, the most powerful essential omega 3 oils (anti-inflammatory) are those containing oily fish (or supplements of fish oils), it contains directly EPA and DHA, substances that are already active and do not require further changes in the body.
Instead, flaxseed oil, which contains much omega 3, must go through many steps before becoming EPA or DHA, and sometimes these steps do not occur, or occur slowly if the diet is inadequate.
This article was endorsed by
Elisenda Carballido
- Dietitian nutritionist. Postgraduate in Phytotherapy and master in Nutrition and Metabolism.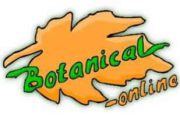 Written by
Editorial
Botanical-online team in charge of content writing