(Classes of oranges)
TYPES OF ORANGES
How many kinds of oranges are there?
Table oranges
Juice oranges
There are about 300 varieties of oranges. Of these, about 30 can be usually found in the market. The main types of oranges are:
NAVEL ORANGES GROUP
They are so called because they have a kind of human navel mark on one side, as a result of an underdeveloped fruit growing in contact with the main one.
These oranges are characterized by their sweetness and by the fact of having few or no seeds.
With a lot of juice, a very thick skin and a pulp with yellowish color, there are very early varieties of them that may be available from November until February.
There are later varieties that can be harvested until early spring. Navel oranges are produced in the Mediterranean, mainly in Spain and Morocco. The Navel market that are sold subsequently come from Australia, California and South Africa.
They are used as table oranges. Within this group, the best known are:
Washington: One of the oldest and most used within the navel group, although gradually it is losing importance. It can be collected from the beginning of November, so it is a very early variety.Its flesh is very sweet but it has very little juice. Yellow, thick skin, very marked wrinkles and broad navel. It is intended solely to eat as dessert fruit. It is the most exported species.
Navelate: A variety of orange obtained in Spain from Washington type. As its name suggests, it becomes later than the Washington type, appearing in December and lasts until late May.It is a smaller, sweeter, seedless and highly resistant while in the orange tree, so it that does not require such a hasty gathering as the previous one. This allows pick it up later when the earliest varieties have already been collected.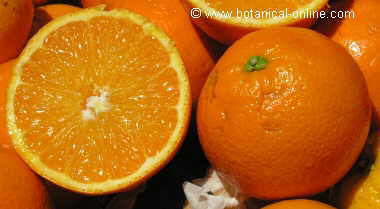 Navelate oranges
Navelina: The species collected earlier. As navelate type, it is a derivative of Washington type. We can find it from October to midwinter. The classical navel mark does not appear and it is more oval than the rest of the group.With a very thin king, it has no seeds and it can be peeled very easily. Its pulp is very consistent which allows eating it without spilling any juice and its exquisite flavor has determined that, little by little, it is replacing the rest of oranges of the group in the market.
Newhall: Much like the previous one although it appears before and it is less acidic.
Thompson: It is a variety obtained from Washington, mainly produced in Algeria and Morocco. Although it is sweet, it is very dry so it has lost importance. It appears in midOctober, after Navelina and before Washington.
Fisher: It occurs before Washington. It is sweet as its color is not so strong.
Leng: Early variety which, despite its sweetness, usually has the size too small for it to become an appreciated variety for export.
SMOOTH ORANGES GROUP
They are used both, for eating and for juicing. They do have the typical navel mark on the peel that characterizes the previous group and, in many cases, have seeds.
Types of smooth oranges group
Among them, the most important are:
Cadenet: They are round, with little skin and some seeds.
Salustiana: This orange type is becoming more important. It is considered that its maturation occurs in midcycle, that is to say, from the end of the year, until midspring.A flattened orange, very sweet, with a nice color and a lot of juice, with few seeds. It is mainly produced in Spain and Morocco.
Valencia: It is the most consumed variety. It has thin skin, much juice and few seeds. Its taste is very acid.
Valencia Late: As the name suggests, it is one of the oranges that becomes ripe later, between half spring and half summer.It has a lot of juice, somewhat acid flavor and thin skin. Juices produces from these oranges are considered of very high quality and strong color. It can be found in many more places than the others.
Verna: This is the latest of all varieties. It is collected in late summer.
Shamouti: Oval and with a very thick skin. It has no seeds and gives off very good smell. Less juicy than the previous types, it is grown mainly in Israel, Turkey and Lebanon.
Natal: similar to Valencia Late, but with a later ripening.
Pera: It is a variant of Natal. It has very few seeds and a pretty sweet pulp.
BLOOD ORANGES GROUP
Types of blood oranges group
They are those with reddish meat and juice because of the existence of pigments (anthocyanins) that need cold to activate. These colors in some varieties also appear on the skin. They occur well into the winter. Among these we have:
Sanguinelli: An israely type with purple red pulp and juice, with no seeds. It is grown mainly in Spain and Morocco. It needs a cold period to reach its peculiar coloring. It is grown throughout the winter.
Sanguinello: Mediumsized Italian type. It has no seeds.
Moro: One of the earliest species in this group. It stands out because of the red bands of its pulp and its sour taste.
Tarocco: It has very thin skin and oval shape. It hardly has seeds and it is ver sweet. It is grown in Sicily.
Maltaise: It does not resist being hit like most oranges of this group. It is very rounded and ranges in color from red to orange. It is collected in late winter.
Double Fine: It was the most appreciated withing the blood oranges group in the past. Somewhat oval, bark stained with red, it can withstand blows very well, being used for juices, because it is seedless and very sweet.


More information on oranges.
This article was endorsed by
Elisenda Carballido
- Dietitian nutritionist. Postgraduate in Phytotherapy and master in Nutrition and Metabolism.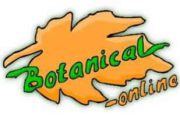 Written by
Editorial
Botanical-online team in charge of content writing