Medicinal properties of sugar cane
Composition of sugarcane
The stem of the cane contains:
Water: 73 – 76%
Sucrose (sugar): 8 – 15%
Fiber: 11 – 16%
These proportions can vary according to the type of crop and variety of the plant. However, the importance of the sugar cane nutritional composition lies in the juice of its stem, from which the sugar is extracted. Sugar cane juice accounts for 70-80% of the weight of the stem, and the remaining 15-30% constitutes bagasse.
Nutritional composition of sugarcane juice:
Water (70-75%).
Sucrose or sugar (40-60%), glucose (6-9%), fructose (5-10%). In wild varieties the percentage of sucrose can be as low as 12%, and even lower for the other sugars.
Fiber.
Vitamins: thiamine, riboflavin, niacin, pantothenic acid.
Hydroxycinnamic acid, synapic acid, caffeic acid, aconitic acid, malic acids, citric acid.
Apigenin, luteolin, tricine and glycosides of these flavones.
Also contains: fatty acids, alcohol, phytosterols, terpenoids, flavonoids, -O- and -C-glucosides and phenolic acids.
Composition of sugar cane juice per 100g
Calories
62 kcal
Sugars
16.5 g
Proteins
0,6 g
Fats
0,1 g
Fiber
3,1 g
Calcium
8 mg
Iron
1,4 mg
Thiamine
0,02 mg
Riboflavine
0,01 mg
Niacine
0,10 mg
Vitamin C
3 mg
Sugar cane as a medicinal plant
Sugarcane (Saccharum officinarum L.) is of key importance in home medicine as it is one of the main ingredients in syrups and medicinal preparations. In these preparations, the sugar acts as a preservative.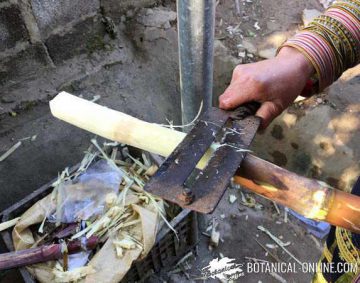 On the other hand, in a traditional way, sugar cane is attributed antiseptic, bactericidal, diuretic, laxative, stomach, cardiotonic, pectoral, toning and refreshing properties. It is indicated for colds, coughs, diarrhea, gastroenteritis, fever and sore throat. In Malaysia, women use this plant during childbirth. In topical use it is a remedy for boils and bedsores. Its use as an enhancer has also been described.
Policosanols in sugarcane leaves
One of the components that has gained more popularity in recent years are the sugar cane policosanols, a waxy substance that the plant contains mainly in the leaves and to a lesser extent in the stem.
Policosanols have the function of covering the plant, forming a kind of cuticle, and protecting it from dehydration. Chemically, policosanols are long chain primary aliphatic alcohols. They appear as a white or yellowish substance on the surface of the stems.
This waxy substance also contains phytosterols, steroids, and terpenoids.
Policosanols, the miraculous component of sugar cane
Sugar cane policosanols (50-80% composed of a type of policosanol called octacosanol) have received great interest from the pharmaceutical and food supplement industry.
This component has shown properties to lower bad LDL cholesterol without causing toxicity and without the side effects of statins. It has even been recommended to take policosanols as a substitute or nutraceutical for statins.
Other possible uses for cane sugar wax
Sugar cane wax (part rich in policosanols) has also been studied as a cheaper substitute for carnauba wax (obtained from Copernicia prunifera, a palm that grows mainly in the Ceará region, northeast of Brazil) , for the production of cosmetics.


More information on sugar cane
This article was endorsed by
Vicente Martínez Centelles
- Founder of the web and director. Teacher of natural sciences, expert in plants, natural remedies and botanical photography.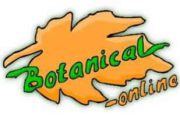 Written by
Editorial
Botanical-online team in charge of content writing