Edible yam species
The term "yam" refers to a group of plants of the Dioscorea genus. There are 12 species of edible yam, which are most consumed in Africa, South Asia, Pacific Islands and the Colombian Caribbean region. The tuber is taken roasted, in soups, fried or boiled.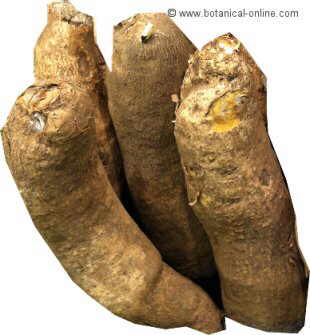 – The most cultivated yam species worldwide is water yam (D. alata), which is characterized by a white, yellow or purple pulp. Water yam is consumed mainly in the Americas and in South Asia. It is known that this variety has been cultivated since ancient times, so that consumption is deeply rooted in the tradition of many peoples.
Yam requires a expensive and laborious culture that has been displaced by cheaper products as sweet potato (Ipomoea batatas) and cassava (Manihot esculenta). Yam is grown on mounds, so you have to pile up the field and this increases the manpower needs.
Sometimes, it may be confused with taro (Colocasia esculenta) and Okinawan sweet potato (Ipomoea batatas var. Ayamurasaki).
Yam on culinary tradition
– Yam is mostly consumed in Africa, especially in West Africa, where the tuber receives sociocultural importance. Different crop species of yam are known in this the continent, such as the African yam (D. rotundata), air potato (D. bulbifera) and yellow yam (D. cayenensis).
– The harvest of yams in several African countries is accompanied by celebrations and collective rituals. Each locality makes its own party to kick off the yam harvest and this determines the time when you start to eat because the tuber is not consumed until the holding of the local party.
– As a sign of religious, in some locations, the first harvested yams are offered to the ancestral spirits of each community. It is an example of Ibo culture of Nigeria, where the great spirit yam Ajokuji or Njoku has priests who are responsible for yam harvest.
– The Fufu: is a traditional dish made with yam Ghanaian cuisine, typical in Africa. The yam is cooked and pounded in a wooden mortar, resulting in a thick paste called "fufu". This is a staple of the native populations.
– In the Philippines, the purple yam (called ube) is cooked with sugar resulting in a kind of jam called ube halaya. This variety of yam is also used to make desserts, cakes, etc., Providing an attractive purple.
– In Maharashtra state of India, yam chips are consumed during religious meals. Not far away, in another province of India, in Gujarati, they prepare Undhiyu, a dish of roasted seasonal vegetables (green beans, yams and green bananas) cooked with curry sauce and coconut milk.
– In the Colombian Caribbean coast we find mote of cheese, a typical regional soup made with garlic, onions, yams, cheese and lemon juice. In some regions, it is also prepared with coconut milk.
Products made from yam
Yam flour: It is produced from strips or pieces of dry yam. This is a product that can be reconstituted with boiling water. The paste form is called dark or Amale Elubo, and does not have as good properties as fufu. It is prepared traditionally in villages, often made from the tubers damaged or unfit for trade. In Ghana, yam flour is called kokonte.
Instant yam: It is yam flour precooked that is rapidly reconstituted to form the traditional pounded yam or fufu. However, this food has not been well accepted by consumers, who consider it of an and inferior quality taste than the authentic fufu. In Nigeria, the resulting reconstituted product is called poundo.
Fried Yam: A usual preparation in Puerto Rico, consisting of frying yam as chips.
Other uses of Yam
Medicines: only wild species and two cultivated species of yam (D. Composite and D. floribunda) are rich in steroid saponins, which, processed through laboratory, are converted into raw material for manufacturing oral contraceptives, hormones and cortisone.


More information about yam
This article was endorsed by
Elisenda Carballido
- Dietitian nutritionist. Postgraduate in Phytotherapy and master in Nutrition and Metabolism.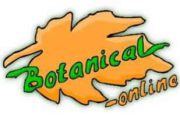 Written by
Editorial
Botanical-online team in charge of content writing