This article was endorsed by
Elisenda Carballido
- Dietitian nutritionist. Postgraduate in Phytotherapy and master in Nutrition and Metabolism.
Benefits of common rue
CHARACTERISTICS OF COMMON RUE
Common English name: Rue, common rue, herb-of-grace
Common name in other languages: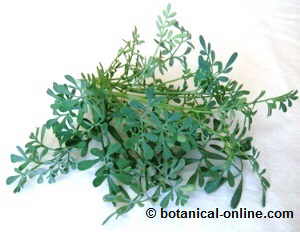 Common rue leaves
– Spanish / Castellano: Ruda, arruda, ruda de los huertos, ruda medicinal, ruda común, ruda mayor.
– Catalan / Català: Ruda vera, ruda, herba de les bruixes, herba de bruixa
– Galician / Galego: Ruda de xardín, arruda, ruda,
– Portuguese / Português: Arruda
– Basque / Euskara: Erruda usaindun, boskoitza, bortusaia
– Italian / Italiano: Ruta comune
– Romanian / Română: Rue
– French / Français: Rue des jardins, rue fétide
– German / Deutsch: Weinraute
– Polish/ Polski: Ruta zwyczajna
– Dutch /Nederlands: Wijnruit
– Norwegian /Norsk bokmål: Ruteslekten
– Finnish /Suomi: Tuoksuruuta
– Swedish /Svenska: Vinrutesläktet
– Turkish / Türkçe: Sedefotu
– Russian /Русский: рута
Scientific name: Ruta graveolens L. Ruta comes from Latin "Rudis" (=coarse) Graveolens comes from Latin ("Gravis+olere" =Strong smell)
Family: Rutaceae
Description of rue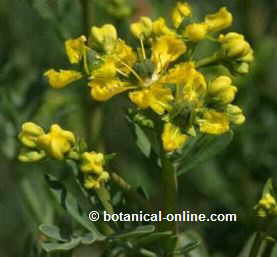 Common rue flower detail
Evergreen shrub plant up to 150 cm tall.
Stems erect, branched.
Yellowish-green, fleshy leaves very divided and equipped with glands that give it its distinctive odor not overly friendly.
Flowers up to 2 cm with slightly serrated petals. Fruit in capsule.
It blooms from May to September, being the summer the time when it is in full bloom.
Habitat: In Mediterranean drylands, in slopes and walls. Sometimes cultivated as a garden plant, it can be found near houses,
Applications of common rue
Used extensively in the kitchen as a spice, it was often planted in gardens or fields, so it may appear naturalized in some fields or abandoned lands.
MEDICINAL PROPERTIES OF COMMON RUE
The following remedies have traditionally been used. Today this plant is not recommended in internal applications in any of the following uses.
Even used externally, it has a number of side effects that should be considered.
* More information: Rue Contraindications
Rue preparations for internal use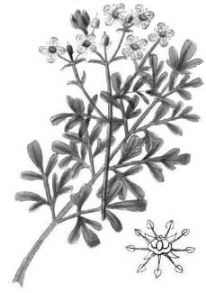 Illustration of a bunch of common rue with flowers
* More information about the side effects of common rue.
Preparations with common rue for external use
In external use it is rubefacient properties rue, ie, produces an outer skin redness.
It is used  to relieve pain in shock, sprains, etc.
Also to reduce pain and inflammation in rheumatic diseases.
How to collect and preserve common rue
The leaves are harvested before flowering. The flowers, when they have formed buttons and before they open. During this time, it is when the plant is rich in essential oils.
Both, leaves and flowers, should be dried in the shade at temperatures not exceeding 35 ° C.
They will be stored in clean, dry containers, if possible in opaque ones, to be protected from light.

More information on common rue toxicity, side effects and contraindications.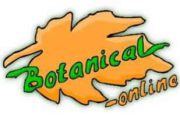 Written by
Editorial
Botanical-online team in charge of content writing