Medicinal plants to avoid during pregnancy
Herbs that may be abortive are:
In the next section we have a number of plants which should not be used by pregnant women because they can cause abortions.
– Colocasia (Colocasia esculenta)

– Flax-Leaved Daphne (Daphne gnidium L)

– St John's wort (Hypericum perforatum),

– Hibiscus (Hibiscus rosa-sinensis),

– Sesame (Sesamum indicum),

– Vinca (Vinca major),

– Juniper (Juniperus sabina)

– Boldo (Peumus boldus)
Herbs and home remedies that may be abortive
Plants that in general are considered as major poisons and should be avoided at all times and especially during pregnancy; above all, those with components explicitly declared as abortifacients.
With a high content in sparteine:
– Aconite (Aconitum napellus),
– Common broom (Sarothamnus scoparius),
– Spanish broom or Weaver's broom (Spartium junceum),
– Autumn crocus (Colchicum autumnale), because of its content in colchicine,
– Strychnine tree (Strychnos nux-vomica) because of strychnine.
Herbs used in recipes
Many of the plants used as condiments such as oregano (Origanum vulgare), cumin (Cominum cyminum), savory (Satureja montana, Satureja hortensis), ginger (Zingiber officinale) have a high content of beta-bisabolene.
Other plants that have a high aromatic value and are high in essences, have beta-thujone, such as rosemary (Rosmarinus officinalis), lavender (Lavandula latifolia), sage (Salvia officinalis), peppermint (Mentha piperita), hyssop (Hyssopus officinalis), basil (Ocimum basilicum), absinthe (Artemisia absentium).
All these plants, taken in large amounts (as green or dry plant and especially the essential oil) can be abortifacients.
In general, and to avoid possible complications, essential oils should not be used during pregnancy.
In any case, one would have to consult the doctor to know exactly which oil can be harmful and its appropriate dosage, but never resort to self-medication, especially during pregnancy.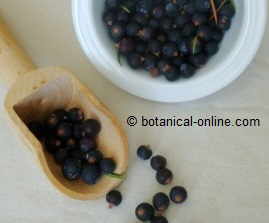 Juniperus fruits are used in some recipes
Purgative plants are dangerous during pregnancy
Purgative plants, with principles for their extreme action on the musculature of the stomach and, by derivation, can also affect the uterus.
Among these, we would have the cassia (Cassia senna), Frangula (Rhamnus frangula) or cascara sagrada (Rhamnus purshiana)
Fruits and foods to be moderate during pregnancy
Pregnant women should not abuse the consumption of certain fruits such as pineapple (Ananas comosus), plum (Prunus domestica) or dates (Phoenix dactylifera) because they are rich in serotonin, an abortion active principle. The skins of bananas (Musa x paradisiaca) also contain the same component.


More information about pregnancy care.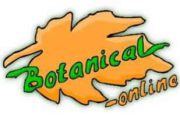 Written by
Editorial
Botanical-online team in charge of content writing