DANGERS OF NUTMEG
Is nutmeg toxic?
No, nutmeg or mace is not toxic when consumed as food in the specified amounts. It is the seed of a plant, used as an aromatic spice.
However, the seeds are rich in essential oils (8-15%) and can have some contraindications.
* More information on contraindications nutmeg.
What are the components nutmeg?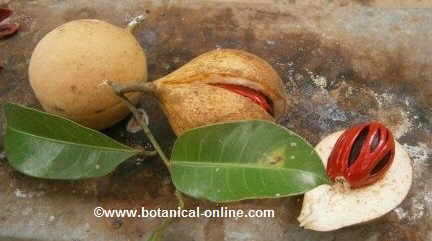 Nutmeg, leaf, fruit, nut and aryl (red). Freshly picked from a nutmeg tree (Myristica fragrans)
Essential oil (815%): terpenoids (pinene, camphene, dipentene, sabinene, cymene, alphathujene, terpinene), myristicin (8%) and safrole. The essential oil of nutmeg is classified in the group of drugs and narcotics. In high doses it is hepatotoxic:
Myristicin, safrole and elemicin may be neurotoxic.
Methyl eugenol possess narcotic properties.
Myristicin and safrole damage the liver. It is considered that Safrole can produce mutations in cells and is also a powerful carcinogen, ie it can induce the development of cancer cells. Myristicin is the commponent causing the neural symptoms of hallucinations, delirium and convulsions.
Nutmeg poisoning can cause serious complications, such as headache, thirst, fatigue, nausea, intoxication, seizures, excessive sweating, increased temperature, panic reactions. It can even cause muscle numbness as a result of cerebral congestion.
** All these adverse reactions determine that this plant should not be used as a recreational drug. **
Recommended doses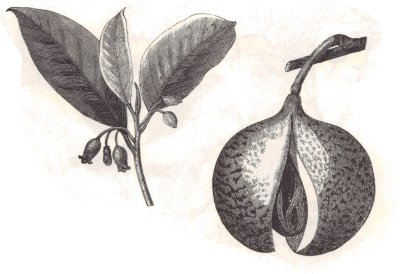 Drawing of the plant
0.5 to 1g. nutmeg powder. Up to 5g. daily. Do not exceed the recommended dose.
Therapeutic doses for adults are very close to the possible toxicity. From 5g. a day it may cause problems of perception or even adverse effects, so the medicinal use of nutmeg is discouraged, better use safer medicinal plants.
The use of nutmeg or mace produces in the individual who ingests them hallucinations or narcosis. The effects are noticeable when taken in large amounts, from about 10g. in adults, but also it increases the toxicity of the plant.
These effects are similar to those produced by ecstasy. The maximum reaction occurs after about 5 hours of having ingested and the effects can last up to more than 50 hours.
In case of poisoning, you should induce vomiting and seek medical advice immediately for a gastric lavage as well as the relevant symptomatic treatment.
Precautions with nutmeg
Do not treat green nutmeg if you are pregnant or breastfeeding: The use of preparations of nutmeg is contraindicated in pregnant or nursing women. Its use stimulates the movements of the uterus which can cause abortions because the bisabolene and oleanolic acid have abortifacient properties. Myristicin acts as oxitoxic, that,s to say, it is able to accelerate the delivery.

* More information: Plants and pregnancy.

Children: its use should be avoided in children due to its potential neurotoxic effects. Toxic doses are very low in children so nutmeg should stay away from their reach.
Do not exceed the recommended dose of this plant.


More information on nutmeg.
This article was endorsed by
Elisenda Carballido
- Dietitian nutritionist. Postgraduate in Phytotherapy and master in Nutrition and Metabolism.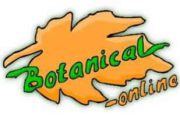 Written by
Editorial
Botanical-online team in charge of content writing