Herbal treatment for the postrate
Phytotherapy. Medicinal plants remedies for the prostate
The primary role of herbal medicine will be to use those plants whose purpose will result in:
– The treatment of benign prostate growth (BPH)
– Plants that help to overcome prostatitis.
– To purify the body is the best way to avoid the risk of infection. We will use frequently teas made with plants that have a diuretic value. That's to say, those that help remove water from the body. By doing this, we will purify it and at the same time, we will release the urinary bladder, thereby helping to alleviate the oppression that a swollen prostate gland has on the body. (More on this topic in "diuretic plants"
– To use laxative plants that prevent constipation. (More on this topic in "Plants for constipation".
– To use those plants with anti-carcinogenic properties. (More on this topic in "Plants and cancer"
Internal use preparations for enlarged prostate
Among the plants that can help the treatment of the diseases of the prostate, we have the following:
– Pumpkin: (Cucurbita pepo) Very useful for the treatment of benign prostatic hypertrophy. It has a component called cucurbitacin that affects dihydrotestosterone, preventing it from producing the enlargement of the prostate.
At the same time, being a plant with diuretic properties, allows to empty the bladder, alleviating the unpleasant effects of this disease. (Eat pumpkin seeds dried or fresh, without the shell (Syrup of pumpkin seeds and honey: Mix the pumpkin seeds or crushed seeds without shells with honey in the same proportion. Eat a tablespoon every morning before breakfast)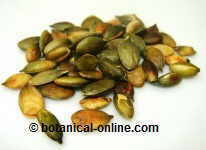 Pumpkin seeds are very useful to prevent and treat prostate diseases
– Goldenrod (Solidago virgaurea) It reduces inflammation and stimulates the production of urine in benign prostatic hyperplasia. (Infusion 1 teaspoon of dried flowers per cup, let stand 5 minutes. Take 3 times daily)
– Borage: (Borago officinalis) Especially suitable in case of inflammation of the prostate and prostatitis (decoction of a handful of leaves in a liter of water for 10 minutes. Drink two cups a day)
– Nettle: (Urtica dioica) Infusions of dried nettle leaves are a very important diuretic remedy. Steroids extract from the roots act directly on benign prostatic hypertrophy by increasing the amount of daily urination, relax the bladder and inhibit the growth of this gland (The dose is estimated at 240 mg daily divided into two doses)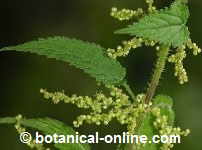 Nettle infusions help maintain prostate in good state
– Maca (Lepidium meyenii) Studies have shown the protective role of maca in preventing prostate hyperplasia.(1.5 g. maca daily, divided into 3 doses of 0.5 g., during a period of 30 days)
Cabbage Palm or Sabal palmetto, One of the best solutions for prostate problems.
Sabal Palmetto = (Serenoa repens) It prevents the conversion of testosterone to dihydrotestosterone, so it is very important to avoid excessive growth of the prostate. It does not decrease prostate size when this is enlarged, but it prevents further growth and improves the symptoms, making the patient feel better by making urination more abundant, not so frequent and without the feeling of being full when he/she finishes urinating.
– Chestnut: (Castanea sativa) Because of its zinc wealth, it is a very important antiprostate component. Its use avoids the uncontrolled enlargement of this gland (Eat crude chestnuts).
– Carrot: It is a source of beta carotene, with detoxifying and anti-cancer properties. (Eat plenty of raw carrot) More information about carotenoids.
– Horse chestnut: (Aesculus hippocastanum L.) It is suitable for the treatment of inflammations in the body such as treatment for benign prostate growth which helps reduce inflammation by promoting the feeling of not being so full and reducing the number of mictions. (30 drops of fluid extract divided into three doses)
– Cat's claw: (Uncaria tomentosa) By encouraging the increase of immunity, it may be of interest when the inflammation of the prostate is caused by infection. (A couple of cups of the decoction for 10 minutes a teaspoon of dried plant per cup of water) (Taking supplements of the plant according to the conditions of the information leaflet)
– Pygeum (Pygeum africanum, Prunus africana (Hook f.) Kalkman.) The extract of this plant, in doses of 100 mg daily divided into two doses, helps in the treatment of benign prostatic hypertrophy, in the similar way to sabal palmetto (Serenoa repens)


More information on prostate diseases.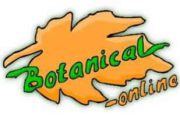 Written by
Editorial
Botanical-online team in charge of content writing