Vitamins, minerals and other supplements for  prostate problems
The treatment of benign prostatic hypertrophy (BPH), prostatic hyperplasia, prostatitis or inflammation of the prostate, involves using supplements, plants and foods that help to complete the conventional treatment of these diseases.
This type of assistance should apply only in mild and moderate diagnosed cases and in accordance with the consent of the medical cases.
The existence of symptoms that may assume more serious prostate diseases require immediate medical attention.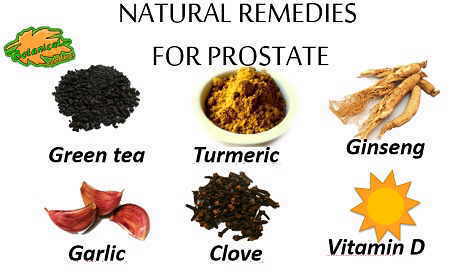 Summary sheet with nutrients, vitamins and food for the prostate. They may also be protective against prostate cancer or help during treatment
Vitamins for prostate
It is recommended to take supplements in the form of food or a diet rich in that component. Among the main supplements of vitamins and minerals for prostate,we include the following: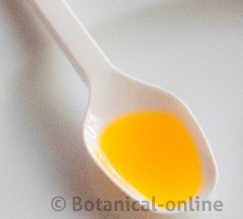 Wheat germ, first cold pressed, is the richest in vitamin E. It has very distinctive orange color. 1 teaspoon provides all the necessary vitamin E a day
– Vitamin E: Vitamin E, among other properties, in addition to anti-inflammatory properties, is well suited to prevent inflammation of the prostate. It also has antitumor properties capable of inhibiting the growth of cancer cells, especially breast, colon and prostate cancers.
As vitamin E supplement, the use of natural foods such as wheat germ oil it is recommended. One tablespoon of this oil provides 190 IU of vitamin E.
Only wheat germ oil first cold pressing is a good source of vitamin E. It must be accompanied by abundant antioxidants to prevent the deterioration of its components. (Take 1 tablespoon wheat germ oil a day with 1 cup of water with squeezed lemon) (Toxicity: Dose of 400 IU of vitamin E a day is harmful)
– Vitamin C: Because of its antioxidant and anti-cancer properties, vitamin C is necessary to improve the overall health of the body and may help in case of prostate cancer. It can be obtained from citrus fruits, raw peppers, radishes, salads, cabbage, or supplements.
– Vitamin D: Some hypotheses suggest that vitamin D deficiency may be a risk factor for prostate cancer. It has been observed that mortality from this cancer is higher in countries with low sun exposure, the main source of this vitamin (also known as sunshine vitamin). Sunbathe 15 minutes a day to produce vitamin D (Avoid the most sunny hours of the day and only do it if there is no medical contraindication)
Minerals for prostate
– Zinc: Zinc inhibits the production of dihydrotestosterone whose elevated levels are associated with noncancerous prostate enlargement. Increasing zinc in prostate cells appears to be effective in the prevention and treatment of benign prostatic hyperplasia. (The usual dose is 30 mg daily to which must be added 2 mg daily of zinc in the case of extending the treatment for more than 30 days)
– Brazil nuts: They are a natural selenium supplement. This mineral has antioxidant properties and stimulates natural death (apoptosis) of cancer cells.
In epidemiological studies, selenium has reduced mortality from prostate cancer. Only 2-3 Brazil nuts should be consumed daily to get enough of them. Do not abuse this food. It improves its effectiveness in combination with vitamin E (vegetable oils used daily on the 1st cold pressing).
Sabal for enlarged prostate
– Saw Palmetto or Sabal: The extracts of sabal act effectively in cases of prostatitis and benign prostatic hyperplasia but there are also some studies to see if it is useful in the prevention and management of prostate cancer. It has been observed in some studies to reduce symptoms such as:
– Frequent urination
– Urgency to urinate
– Frequent urination at night (nocturia)
For this purpose, saw palmetto berries are one of the most recommended remedies for the treatment of benign prostatic hyperplasia since they can reduce some of its symptoms. They are also useful against male pattern baldness or androgenetic alopecia (See more information in the full study of this plant)
Beneficial food for enlarged prostate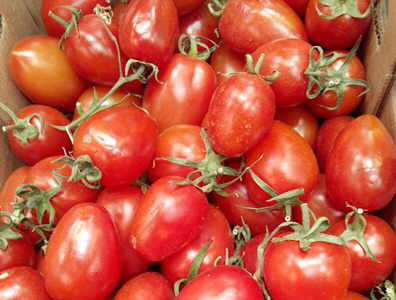 For the prostate, prepare a lot of homemade tomato sauce
– Homemade tomato sauce: Consumption of tomato sauce is associated with a lower risk of developing this cancer, because cooked tomato is rich in lycopene. Lycopene inhibits containing tumor cell growth and is able to prevent benign prostatic hyperplasia. This flavonoid also abounds in other vegetables like red peppers.
– Vegetables of the cabbage family: Eat cabbage, broccoli, cauliflower, arugula, radishes, turnips, etc. The regular consumption of these vegetables reduces the incidence of prostate, breast and colon cancer because of their fiber content, antioxidants and active ingredients glucosinolates.
– Garlic against prostate cancer: Garlic has antioxidant, antiseptic and circulatory properties. To release its active ingredients, garlic must be crushed raw, unsalted, and added raw to soups or any dishes.
In a study of more than 100,000 people, it was observed that the daily intake of 10gr garlic (2-3 daily garlic) reduced the risk of prostate cancer, although it should be more study on this. A very healthy preparation with garlig is "ajoaceite", a homemade sauce.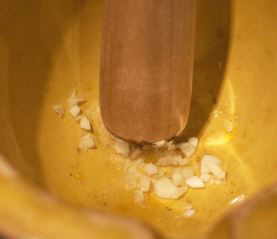 Photo of garlic in a mortar. The medicinal principles are formed by crushing raw garlic.
– Soybean: Soybean could have a beneficial effect due to its isoflavones (genistein and daidzein), because it slows tumor growth and reduce hormone levels of androgens, promoters of prostate cancer. (Consult your doctor)
– Green tea: Green tea consumption is associated with a lower risk of prostate cancer. Green tea is rich in one of the types of catechins with more powerful antioxidant effects, epigallocatechin gallate. For its properties, you should choose a good quality green tea, rich in this component.


More information on the natural treatment of the diseases of the prostate.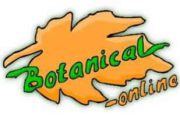 Written by
Editorial
Botanical-online team in charge of content writing