What are Brazil nuts good for?
Nutritional value of Brazil nuts
Brazil nuts are seeds very rich in vegetable proteins, essential fatty acids, fiber, potassium, phosphorus, magnesium, calcium, vitamin E and they are the most rich food in selenium.
They can be taken raw or cooked in recipes.
They are crispy, but, when chewed, they have a very creamy, pleasant texture and mild flavor reminiscent of raw almonds.
What do Brazil nuts have?
The nutritional value of nuts Brazil stands out for its contribution to:
Omega 6: It has been shown that omega 6 has a very positive effect on the circulatory system. It has a beneficial effect on the heart by preventing blood clots, which are responsible for reducing the flow of blood and may even cause thrombi.
Consuming foods rich in omega 6 will help preserve the health of the heart and arteries and constitute a good preventive against hypertension.
Lecithin also helps to keep cholesterol under control.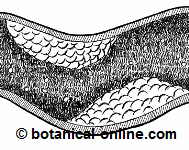 Brazil nuts, for its antioxidant properties help to avoid problems of poor circulation
Brazil nuts with brown skin are richer in antioxidants than peeled because the skin has more flavonoids, such as quercetin, gallic acid, gallocatechin, protocatechuic acid, catechin, vanillic acid, taxifolin, myricetin and ellagic acid.
Main minerals and vitamins of Brazil nuts
Selenium: They contain much selenium. It is not an exaggeration, Brazil nuts provide a very high amount of selenium compared to any other food, animal or plant.
Vitamin E: Vitamin E is a vitamin with antioxidant properties that also helps maintain good vision health, reproductive system and skin. Eating foods rich in vitamin E also has a protective role against the development of cataracts, loss of vision, presbyopia, etc
Magnesium: Brazil nuts are the richest nut in magnesium (only sunflower seeds have a higher content). It is recommended to increase the supply of magnesium to those people with hypertension and heart disease, athletes, or when muscle problems.
Do Brazil nuts contain a lot of protein?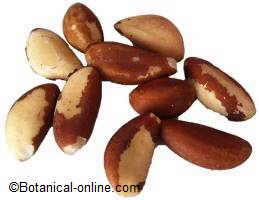 Approximately, 5-6 Brazil nuts weigh 20g., Equivalent to one serving.
In some publications it has been speculated about the high protein content of Brazil nuts, and in several sources it can be read that a handful of Brazil nuts has as much protein as an egg.
This statement is FALSE Brazil nuts are rich in protein if you look at the proportion per 100g. But usually this amount of food is not ingested.
A serving (20 g.) of Brazil nuts contains 3 grams of protein, while an egg would provide 10 grams. (In addition, egg protein is of higher quality than vegetable protein)
Brazil nuts are rich in amino acids methionine and cystine, which are deficient in legumes. In vegetarian diets, with a combination of proteins from nuts and seeds with lentils, chickpeas, beans, or other legumes, a complete vegetable protein is achieved.
Whom are Brazil nuts recommended for?
Brazil nuts are recommended as food for:
Sportsmen: This food gives them many antioxidants, essential fatty acids, magnesium, calcium and vegetable protein needed for sports training.
Obesity and Cholesterol: Because of the kind of fat, fiber and antioxidants, Brazil nuts are recommended for people with high cholesterol and can be eaten in any balanced diet to lose weight. We should not worry that Brazil nuts are too caloric, because consumed in appropriate portions (56 units per day), this food can bring us many benefits without assuming a great contribution of fat.
Arthritis and Osteoporosis: Being high magnesium and antioxidants, it is a suitable food when there are problems of bones, arthritis, osteoporosis, bone fractures, chronic fatigue, fibromyalgia, etc.
Brazil nuts and responsible consumption
Consumption of local and seasonal food is always recommended. Outside their home country, Brazil nuts are an exquisite and exclusive product, which is not usually eaten too often.
Consuming products that are not local, besides not being green (for waste of energy used in transport), makes the product more expensive and makes it difficult for local people to have access to it.
In that sense, Brazil nuts are a staple in the diet of indigenous peoples of the Amazon. For this reason, responsible consumption of this food is recommended.
The nutrients they provide can also be obtained from other nuts such as almonds, hazelnuts, sunflower seeds, sesame seeds, pumpkin seeds, etc.
Composition of Brazil nuts
The following table shows the composition of Brazil nuts per 100 grams per serving:
Nutritional composition of Brazil nuts
Per 100g
Per serving 20g.(4-6 seeds)

3,34

0,67

Calories

656
131,2
66,22
13,24
14,34
2,87

12,80

2,56

5,4

1,08

600

120

600
120

3,40

0,68

2

0,4

225
45
176
35,2
Zinc (mg.)

4,59

0,92

Selenium (mcg.)
2960
592
Vitamin C (mg.)

0,7

0,14

Vitamin A (UI)

0

0

Folic acid (mcg)

4

0'8

Vitamin B1 (Thiamin) (mg.)

1

0,2

Vitamin B2 (Riboflavin) (mg.)

0,122

0,02

Vitamin E (mg.)
7,6
1,52
Pantothenic acid (mg.)

0,236

0,05

Niacin (mg.)

1,622

0,32
Legend:


= Indicates that this is a food rich in this nutrient


More information on Brazil nuts.
This article was endorsed by
Elisenda Carballido
- Dietitian nutritionist. Postgraduate in Phytotherapy and master in Nutrition and Metabolism.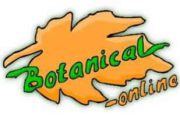 Written by
Editorial
Botanical-online team in charge of content writing