Citrus sinensis (L.) Osbeck
Information of Orange tree, Citrus sinensis (L.) Osbeck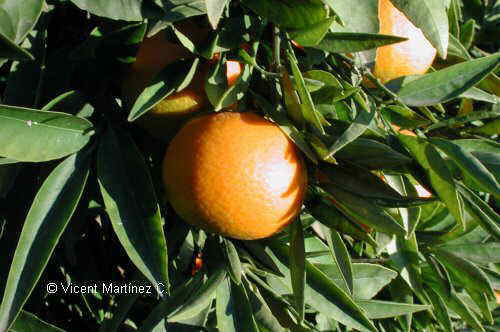 Citrus sinensis fruit and leaves
Perennial tree of Rue family – Rutaceae – up to 10 m., with a very round cup. Slightly prickly stems. Coriaceous leaves, elliptical or ellipticolanceolate, acute and with a narrow winged stem White flowers, very scented, with 5 petals and numerous stamens. The fruit (the orange) is a hesperidium with quite enough smooth rind and a sweet or sour taste, not bitter (See detail of the fruit). Native from South east of Asia, it was first cultivated in China and it can be found as an ornamental or alimentary tree in the Mediterranean countries.
Other varieties of Citrus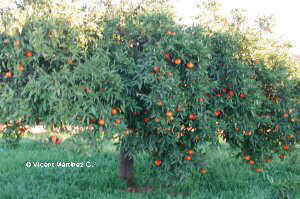 General aspect of orange tree Citrus sinensis
– Citrus aurantium L. – (Sour orange tree):
With the fruit having a more wrinkled rind and a bitterer pulp. Stem with wider winged and prickly branches.
– Citrus limon (L.) Burm – (Lemon tree):
With flowers white inside but with rosy ends and fruit (see photo) having a thick rind, bright yellow when fully ripe. With one side ending in a nipple. It probably comes from species "Citrus medica L."
– Citrus medica L. – (Citron):
Similar to the lemon tree but with bigger fruits, more rounded and with a thicker rind. It's got bitterer juice. It generally reaches up to 5 meters tall. Native from Asia, it is cultivated in the Mediterranean.
– Citrus paradisi Macfaydyen in Hooker – (Grapefruit):
Till 8 meters tall. It's got bigger flowers and rounder fruits (see photo). Very thick rind. Native from China, it is cultivated in the warm climate countries, specially the Mediterranean ones.
– Citrus delicious Ten – (Tangerine):
Till 8 meters tall., much less rounded that the rest. Narrow leaves and fruits (see photo) flattened with the rind that is easily removed from the flesh, which is sweeter than the other species of Citrus .
See photograph of the fruits altogether for comparison


More information about basil.
This article was endorsed by
Vicente Martínez Centelles
- Founder of the web and director. Teacher of natural sciences, expert in plants, natural remedies and botanical photography.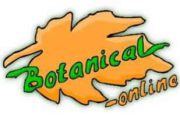 Written by
Editorial
Botanical-online team in charge of content writing