This article was endorsed by
Elisenda Carballido
- Dietitian nutritionist. Postgraduate in Phytotherapy and master in Nutrition and Metabolism.
What is wheat germ oil?
Wheat germ oil is a vegetable oil that is obtained from wheat germ. Of all types of oil, this one stands out for its orange color and aroma.
The one with the highest properties is the raw wheat germ oil, obtained from the first cold pressure.
As for its composition, wheat germ oil is very rich in essential fatty acids omega 3 and omega 6, the latter predominating. It is the richest food in vitamin E.
Types of wheat germ oil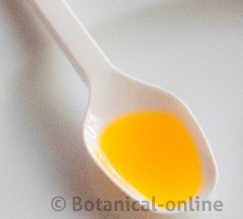 The extraction of the oil from the germ of this cereal can be done in two ways:
Cold pressed wheat germ oil: It is done by cold pressing the germ at low temperature. In this way, the golden colored oil, slightly brown, with a very pleasant cereal flavor and aroma is obtained. Cold pressing preserves high levels of vitamin E, also called heart vitamin, as it is necessary for cardiovascular health, fertility, immune system and healthy skin.
Refined wheat germ oil: When it is not specified that it is oil obtained by cold pressure, it is because it is a refined oil. Normal or refined wheat germ oil is not rich in vitamin E.
It is also possible to obtain this oil by means of an extraction and subsequent refining system carried out at high temperatures. In this last system, the tocopherols that compose vitamin E, which are susceptible to volatilization due to the application of heat, are lost.
The resulting oil differs from the previous one in not only nutritional but also organoleptic properties (taste, smell, color, etc.). Its color is a light yellow tone, its flavor and aroma are very light and soft.
Types of vegetable oils for skin color and properties
The photo shows different types of oils. The cold-pressed wheat germ oil is the most orange in color. Color is one of its most distinctive features.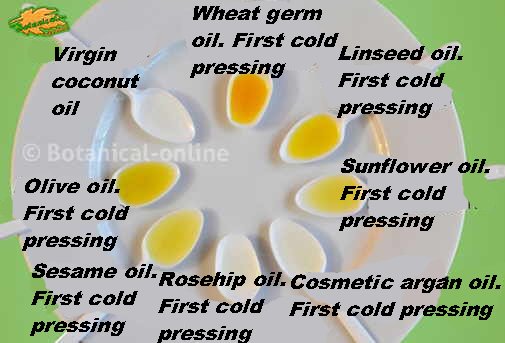 How is wheat germ oil consumed?
It is preferable to consume it in the raw state, that is, use cold-pressed wheat germ oil. For internal use it can be taken in pearls (supplements), or, if we have the oil in the bottle, it is edible and consumed in tablespoons (1 per day).
Can you cook with wheat germ oil?
It is not recommended. Wheat germ oil should not be cooked as its vitamin E content is lost and its fats deteriorate. Therefore, it loses much of its benefits and antioxidants. Therefore, wheat germ oil, if used in food, is taken on an empty stomach or in salads, raw recipes or added at the end of cooking.
Composition of wheat germ oil
Wheat germ oil is a type of vegetable oil. It is obtained from the extraction of fat from wheat grain, that is, the fat present in the wheat germ.
Nutritionally it is rich in essential fatty acids, mainly omega 6, and with a smaller proportion, omega 3.
Its high vitamin E content is also very remarkable, when it comes to a crude oil (extracted by cold pressure).
Wheat germ oil is the best source of vitamin E
A tablespoon of wheat germ oil provides twice as much vitamin E as we need per day.
The recommended daily amount of vitamin E for an adult is 10 mg. A tablespoon of wheat germ oil contains 190% of the daily needs of this vitamin (19mg.). For this reason, this oil is taken as a vitamin E supplement, highly recommended especially in cases of gastritis or ulcer.
Wheat germ oil only retains all of its vitamin E content when it is produced by first cold pressing.
Table of fats and vitamin E composition of wheat germ oil
Composition of wheat germ oil by 100 g
Vitamin E
192,44 mg.
Fats

100 g.

Saturated fats

18,8 g.

Palmitic acid

16,6 g.

Stearic  acid

0,5 g.

Myristic acid

0,1 g.

Monounsaturated fats

15,1 g.

Oleic acid

14,6 g.

Palmitoleic acid

0,5 g.

Polyunsaturated fats
61,7 g.
Linoleic acid (omega 6)

54,8 g.

Linolenic acid (omega 3)

6,9 g.
What does wheat germ oil contain?
Wheat germ oil contains 100% fat, since it is an extraction of the fat from the wheat cereal germ, that is, the separation of the lipids found in the grain germ.
The type of fats it contains are mainly polyunsaturated, that is, omega 6 (linoleic acid) and omega 3 (linolenic acid).
It does not contain water, nor does it provide protein or other nutrients. It only contains fats and vitamin E, which is a fat-soluble vitamin (found in vegetable fat).
Nutritional composition table of wheat germ oil per 100 g.

Water

0,00 g.

Calories

884 Kcal

Whole fat

100 g.

Protein

0,00 g.

Carbohydrates

0,00 g.

Fiber

0,00 g.

Potassium

0,00 mg

Sodium

0,00 mg

Phosphorus

0,00 mg

Calcium

0,00 mg

Magnesium

0,00 mg

Copper

0,00 mg

Iron

0,00 mg

Zinc

0,00 mg

Vitamin C

0,00 mg

Vitamin B1 (Thiamin)

0,00 mg

Vitamin B2 (Riboflavin)

0,00 mg

Vitamin B3 (Niacin)

0,00 mg

Vitamin B5 (Pantothenic acid)

0,00 mg

Vitamin B6 (Pyridoxine)

0,00 mg

Vitamin B9 (Folic acid)

0,00 mcg

Vitamin B12 (Cobalamin)

0,00 mcg

Vitamin A

0,00 mcg

Vitamin D

0,00 IU

Vitamina E

192,44 mg

More information on wheat germ oil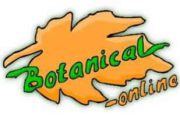 Written by
Editorial
Botanical-online team in charge of content writing