This article was endorsed by
Vicente Martínez Centelles
- Founder of the web and director. Teacher of natural sciences, expert in plants, natural remedies and botanical photography.
Ivy
PHOTOS OF IVY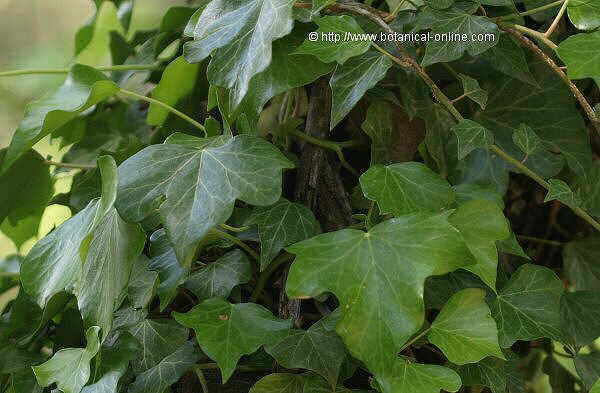 Photo of Hedera helix
Hedera helix, climbing up a tree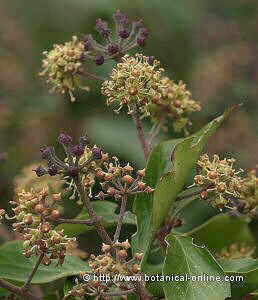 Flowers and fruis of ivy
Hedera helix L. (Ivy)
Perennial or creepy plant of the Ivy Family – Araliaceae- up to 30 m. Leaves till 5 or 10 cm long; glossy dark green above, bright green below; alternate, petiolated, with clear nerviation.. The youngest ones palmato-lobulated with 3-5 lobules; the adults, which are exposed to the sun, entire. Flowers with 5 stamens and five petals, green yellowish, 3 to 5 centimeters wide, gathered in compound inflorescenses formed by numerous racemes. Fruits in berry, black purplish or yellow, according to the different subspecies. The flowering is produced from the end of summer to the beginning of autumn. The fruits develop along the autumn and winter and mature in spring.
Very common in Europe, north of Africa and Asia. We can find it from the south of Escandinavia till the Iberian Peninsula, arriving to Cyprus by the east and to the north of Turkey. It grows fundamentally in shady places in forests, walls, rocks, etc, from the level of the sea up to 1000 m. It has been introduced in in numerous places of the the world. Its capacity of adaptation to the different types of soil and climate has determined it to become an invasive plant in many places. Such is the case of United States and Australia where its cultivation is dissuaded and informative brochures are supplied explaining the way to eradicate it.
More information about plants.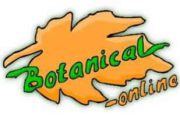 Written by
Editorial
Botanical-online team in charge of content writing