What is buckwheat?
Buckwheat (Fagopyrum esculentum Moench), also known as black wheat, is a fruit, an achene, (like sunflower seeds) which is characterized by its trigonal shape, belonging to the botanical family of Polygonaceae.
This grain is commonly used in the cuisine of Asia, Russia and Eastern Europe. Precisely because of its culinary use and its name, buckwheat is often confused with a cereal.
But a cereal is a plant belonging to the botanical family of grasses (such as rice, rye, barley or wheat). Instead, buckwheat belongs to the botanical family of Polygonaceae and is, for example, a relative of rhubarb (Rheum rhabarbarum) and Sorrel (Rumex acetosa).
However, buckwheat is considered a pseudocereal because of its high starch content and its use in food such as flour and grain.
Not being a cereal, it does not contain gluten and is therefore suitable for celiac food. Others are also gluten pseudocereals quinoa and amaranth.
For human consumption, buckwheat can be consumed as grain or flour. Leaves are also edible and is a honey plant.
– More information on the botanical characteristics of buckwheat in the listing below.
Buckwheat History
The first crop of buckwheat appeared in Central Asia and Northern Europe, from where it spread throughout Europe due to the incursions of the Tartars and Turks.
From the tenth to the thirteenth century the cultivation of this plant widespread in China, where its grain and its leaves as a vegetable were consumed, and are still consumed.. From China it spread throughout Europe and Russia in fourteenth and fifteenth centuries, and it was not until the seventeenth century the Dutch exported it in America.
Buckwheat is grown primarily for human food consumption, especially in East Asia, Russia and Eastern Europe, but also for animal feed. In these areas people tend to consume the leaves of buckwheat plant as a vegetable, particularly the variety of perennial buckwheat (Fagopyrum cymosum). It is also a honey plant, from which buckwheat honey is made, dark and very aromatic.
Currently, China is the leading producer of buckwheat in the world, followed by Russia, Japan, Poland, Ukraine, Canada, France and the United States (Missouri, New York and Pennsylvania).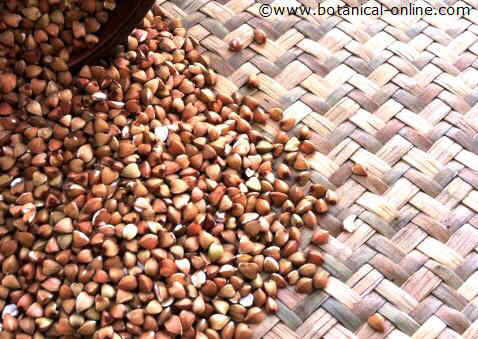 Buckwheat grains
Buckwheat in food
Perhaps many readers believe they have not still tried buckwheat to this day. The truth is that the consumption of this plant is hiding under the very traditional and widely spread dishes, including the famous Japanese soba noodles, the British pancakes and some breads and pancakes of Central Europe and Asia.
Buckwheat grain
Buckwheat grain has a very pronounced flavor, like walnut, somewhat gritty texture and tanned colour. It is eaten raw or roasted.
In every kitchen it can be used as legumes or rice, especially pilaf. It is possible to garnish soups dishes, meat, fish and desserts, and even consumed as breakfast cereals. It is also eaten raw in salads by adding to them after having been soaked to soften.
When roasted and boiled, (as a "porridge") it is called kasha, and it is traditional in Eastern Europe and particularly in the Slavic and Russian cuisine. In Poland buckwheat porridge is called Kasza gryczana.
Also prominent in the traditional cuisine of Eastern Europe as the filling of a dish called Knish, a kind of samosa or "vegetable croquette" made with mashed potatoes, ground beef, sauerkraut, onions, kasha and cheese.
In China, there is a variety of buckwheat, tartar buckwheat (Fagopyrum tataricum), used for the manufacture of vinegar and beverages. When liquor is prepared from buckwheat, it is attributed with medicinal properties.
Buckwheat grain is also consumed by wild turkeys, pheasants, partridges, waterfowl and other birds.
Buckwheat flour
Buckwheat flour is obtained from the milling of buckwheat grain, being widely used in the countries of central Europe and Asia.
In Japan, buckwheat flour is consumed in the form of pasta, specifically with soba noodles. Soba noodles can be cooked in many ways in Japanese cuisine. There are many varieties as Towari soba, made with 100% buckwheat flour; Hegi soba, which are seasoned with seaweed soba or Mugi soba noodles made with sage, among others.
In Southeast Asia, buckwheat is a staple in many mountain areas, where flour is used for making chapatis, unleavened, flat, thin and characteristically round bread. Its flavor is very intense when made with buckwheat flour, but wheat is sometimes used.
In India there is a traditional dish used as appetizer called pakora. This is a mixture of vegetables and buckwheat flour which is fried, is crunchy and very tasty. The flour can also be mixed with mashed potatoes to make parathas, a kind of Indian bread that is used for fasting and in some religious celebrations.
Blinis are traditional Russian bread pancakes. They are made with buckwheat flour, cooked in the oven and served with cream or sour cream.
With buckwheat flour we can make Poffertjes, a sweet bread traditional in Dutch cuisine.
In Valtellina and in the Grisons (Italy) people consumed Pizzoccheri a short noodle dish made with buckwheat flour (80%) and durum wheat (20%). These buckwheat noodles are cooked with green vegetables (spinach, cabbage), potatoes and cheese, flavored with garlic or basil and toasted in butter.
There are two festivals in the region of Teglio in honor of this paste, called La Sagra dei Pizzoccheri, held in July, and The Golden Pizzocchero held in September. In Japan there is the same variety of noodles called Ni-hachi soba.
Another use given to buckwheat flour in Valtellina is to prepare polenta taragna, a paste made with buckwheat flour, water, cheese and butter, cooked in a pot for a long time, and stirring constantly.
In France the traditional Galettes de sarrasin, are made of buckwheat, a crêpes or pancakes (pancakes) made with buckwheat flour.
The leaves of buckwheat plant as a vegetable
Buckwheat leaves are consumed mainly in Asia, in the most mountainous places and in India. They are cooked as current leafy vegetables. Being rich in rutin, they are very good for a healthy diet. People, also harvest them to obtain straw or fodder.
Buckwheat honey
The common buckwheat has been used typically for honey production in many countries, specifically the variety Tokyo. Buckwheat honey is dark and has a very strong flavor, which is appreciated by some people, while others do not like it.
In fact, in the past, buckwheat honey was made widely by all beekeepers in New York, but because of its strong flavor, the supply did not meet demand and production was gradually disappearing. Currently, buckwheat honey is rare and its price is usually higher than other honeys.
For beekeepers, this production has the advantage that the plant produces nectar at the end of the season, when other nectar sources are scarce. One hectare can support up to 2.5 hives and produce up to 175kg of honey in a season. It is usual to pick up 5kg of honey in a strong colony that feeds itself on buckwheat.
But despite the high yield of buckwheat, this plant has a drawback, which is that this plant normally only produces nectar during the morning, so bees are unable to complete the day gathering nectar. So some authors suggest that bees can become restless and difficult to work, having the need to work with other plants for the production of honey.
Where to buy buckwheat?
The usual outlets you you can find buckwheat are:
Dietary and ecological stores, where it is often marketed as a (pseudo) cereal of ecological farming and an alternative food. Sometimes, if we order this product, we will have it in a short time since it often shares the same distributors as the other rare grains and pseudocereals (millet, sorghum, quinoa, amaranth, etc..). It can also be found in these establishments into sections for coeliacs.
Supermarkets, markets and common shops, especially in countries where this food takes part in the regular diet: Russia., Asia, Eastern Europe and north.
Stores of Japanese and Chinese cuisine. We can specially find traditional soba noodles there.
Shopping online, Internet ends up being the most practical choice when we find what we seek in the usual outlets.
Price of buckwheat
Grain buckwheat: its price ranges between 4-8 € kg, depending on whether it is organic or not. It is sold in 500g packages of organic wheat to 2.80 € approximately and conventional farming to 4 € kg.
Puffed buckwheat flakes: the price is about 18 € / kg. It is sold in 100g packages to 1.80 to 2.50 € the unit.
Buckwheat flour: the price varies.
Buckwheat Pasta: its price is similar to other glutenfree pasta, about 6-7 € kg. Sold in bags of half a kilo (500g) and the price ranges from 3 to 4.50 €.
Soba noodles: the price varies about 10-18 € kg, depending on whether it contains wheat flour (which is most common) or 100% buckwheat flour. Sold in packs of 250g to 3 – 4.5 € Kg approximately.
Some pasta mix it with wheat flour so it is important to make sure it contains the seal of "gluten free" on the package (crossed herringbone) if it is for a person with gluten allergy.
Extruded (swollen)toasted buckwheat: ideal for coeliacs, as an alternative to bread with gluten or diets. It is sold in bags of 90-125g and priced about 3 to 4.5 € the package.
Buckwheat honey: its price is about 30 € / kg. Sold in packs of 500g to 15 € the unit approximately.
Important tips to buy buckwheat
Pay attention to the expiration date shown on the packaging. Often not usually in good condition due to the habit of keeping the cereal, such as rice or rye, for a long time, but buckwheat is not a cereal and is a most perishable food. So you have to look at the expiration date.
Note that grain is not damp, grains are crowded or have "trickles". All this indicates that the grain has been preserved in poor condition and has a pest.
Buckwheat conservation
Once opened, buckwheat should be stored in an airtight container, preferably glass, and stored in a dark, cool and dry. The grain can be kept in such good condition for 1 year in refrigerator.


More information about buckwheat
This article was endorsed by
Elisenda Carballido
- Dietitian nutritionist. Postgraduate in Phytotherapy and master in Nutrition and Metabolism.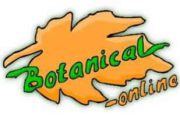 Written by
Editorial
Botanical-online team in charge of content writing