Grapefruit recipes
GRAPEFRUIT IN THE KITCHEN
How to eat grapefruits?
Although grapefruit seems to be a very underutilized food, there are many applications that can be done with this fruit. The most common way is to drink it as a juice. Grapefruit juice sweetened with honey or combined with other citrus juices such as orange may be more appealing in general, especially for children.
It is particularly suitable for breakfast as a source of minerals and vitamins. It goes well with yogurt, so we can include a few pieces of grapefruit with this yogurt sweetened with honey.
Another possibility is to serve it as a starter, as part of salads or as a dessert, sweetened with honey and combined with other acidic fruits like oranges, raspberries or strawberries. We must not forget that there are on the market less acidic and more colored varieties of grapefruit.
For people who do not want to be vegetarian, they can use this fruit to accompany meat dishes. Used in this way, this acts as a good degreasing fruit helping the liver to metabolise fats, while, because of its digestive properties, it provides better digestion.
How to prepare grapefruits?
Grapefruit is rich in vitamins, especially vitamin C. and folic acid. This vitamins, however, are very delicate and they are easily dissolved in contact with water. As the rest of soluble vitamins, they are altered in light contact or are easily destroyed by heat.
The best way to prepare this food without spoiling its principles is to serve it raw. Prepare it shortly before eating and do not expose it to water or excessive light.
Grapefruit should not be peeled long before they have to be eaten. Do not keep them prepared in the fridge from one meal to another.
What grapefruits should we buy?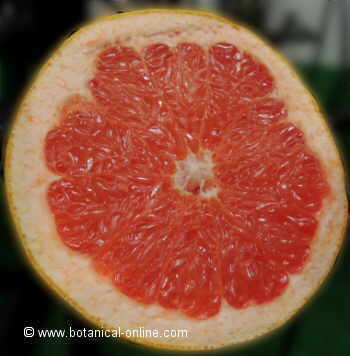 Photo of grapefruit
Citrus trees are trees that are attacked by many pests. Nonbiological citrus production uses a large amount of chemicals which are not beneficial to human health. Although grapefruits have a rather thick skin, some chemicals can penetrate through the pores of the crust so that the pulp can easily contain some traces of these products.
The best grapefruits are those that have been produced in organic farming and have been left in the tree to ripen naturally.
Whether organic or not, before buying grapefruits, you should keep in mind their skin to be firm and to have a good weight according to their volume. A good weight is something which is telling us that its juice content is high.
A grapefruit that appears wrinkled or, when pressed a bit, too flabby should not be chosen as it is likely to have little juice. The best ones are those that, when pressing on them, still present a little elasticity. Just keep in mind that those you are buying fresh should be fragrant.
Sometimes we give too much importance to appearance. If they have signs or markings outside, this does not indicate that they are in bad conditions. Sometimes a grapefruit with a too glossy exterior only proves that it has been treated with too many insecticides.
How to store grapefruits?
If we wish to preserve the grapefruits with their skin within a week, it is more appropriate to do so in a natural environment, in a not too bright and too dry place.
If we prefer to preserve them for month or so, we will place them in the freezer. When eating, the best grapefruits are those that were stored in its natural environment, so as them can preserve their outstanding flavors and aromas.
Grapefruit recipe: Grapefruit dessert with strawberries and mint leaves
Ingredients for four people:
2 grapefruits.
50 g of roasted cashews.
Half a cup of strawberries
4 tablespoons of honey.
4 tablespoons fresh mint
Preparation
Peel the grapefruits and split them into slices.
Clean the strawberries.
Place the grapefruit slices on the tray.
Place the strawberries on the bed by the grapefruit.
Add cashews above.
Heat honey and pour over the tray.
Garnish with fresh mint leaves.
Place in the refrigerator to cool.
How to serve: It is served fresh as dessert


More information on grapefruit.
This article was endorsed by
Elisenda Carballido
- Dietitian nutritionist. Postgraduate in Phytotherapy and master in Nutrition and Metabolism.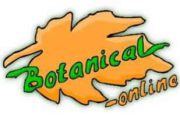 Written by
Editorial
Botanical-online team in charge of content writing