Grated carrots with lemon recipe
How do prepare grated carrot with lemon
GRATED CARROTS WITH LEMON RECIPE
Ingredients of grated carrot salad with squeezed lemon
Photo grated carrot with squeezed lemon and a little oil
The recipe is as simple as the title of it:
- Raw carrots
- Lemon
- Extra virgin olive oil or other (unrefined) vegetable oil first cold pressed
How to prepare grated salad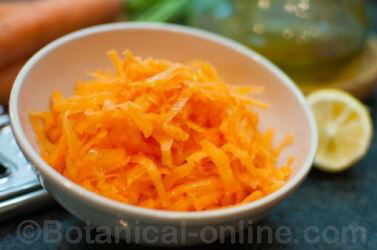 Photo of grated carrot with lemon juice and oil
- Wash and peel the carrots.
- With a grater or with an automatic machine, grate the carrots
- Squeeze a lemon on the grated carrot immediately to minimize vitamins and flavonoids loss.
- When serving, season it with vegetable oil.
- Serve as a salad.
You can prepare a good bowl of grated carrots with lemon juice and keep refrigerated for 2 or 3 days. Although vitamin C is a bit more sensitive to oxidation, beta carotenes are very stable and preserve for a long time.
*Related information: Grated carrot with lemon properties

More information on carrots in the listing above
Other interesting articles
This material is for informational purposes only. In case of doubt, consult the doctor.
"Botanical" is not responsible for damages caused by self-medication.