Properties of eucalyptus honey
Characteristics and benefits of eucalyptus honey
What is eucalyptus honey?
It is honey produced by bees when they mainly suck eucalyptus flowers
Characteristics of eucalyptus honey
It is an amber honey, generally with a dark color, strong woody flavor and balsamic smell.
Properties of eucalyptus honey
Eucalyptus flowers provide balsamic, expectorant, antiseptic and anti-inflammatory properties.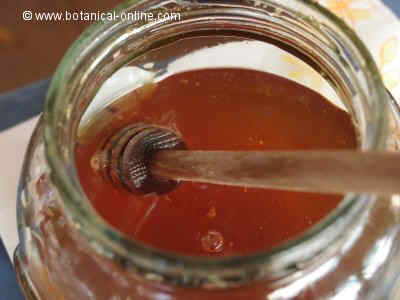 Photo of eucalyptus honey
What is eucalyptus honey used for?
It is especially useful for those with problems in the respiratory system: bronchitis, cold, pharyngitis, cough, sinusitis, asthma or influenza can benefit from the use of this honey in preventive action (It is usually included as a food sweetener)
(Eat a couple of tablespoons of honey a day, one in the morning and another before going to sleep or use as a sweetener specially prepared to treat these diseases)
Its antiseptic and anti-inflammatory properties are also useful for preventing or treating urinary tract abnormalities, especially in regard to the treatment of cystitis, nephritis or kidney stones.

More information on honey types and properties in the listing above.
Other interesting articles
This material is for informational purposes only. In case of doubt, consult the doctor.
"Botanical" is not responsible for damages caused by self-medication.