Prickly pear soup recipe
PRICKLY PEAR RECIPES
NOPALES SOUP
Ingredients:
- 180g. dry beans
- 150g. of fresh nopalitos, cut into cubes
- 5 roasted tomatoes
- 1 onion
- 1 red pepper
- 1 potato
- 2 cilantro sprigs
- 2 garlic cloves
- 2 cayenne peppers or guajillo chiles, hydrated in hot water
- Salt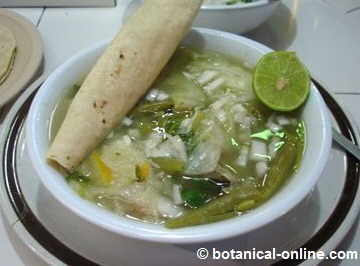 Picture of the soup
Preparation:
- Cook the beans in boiling salted water.
- Wash and peel the potatoes, cut into cubes.
- Cut the onion fine, same with the garlic and pepper.
- In a skillet, saute the onion, the garlic, pepper, chilies and potatoes, with a pinch of salt.
- Add and remove nopalitos.
- Add the cooked beans.
- Boil all ingredients over medium heat for 10 minutes.
- Top with chopped fresh cilantro, turn off heat, cover and let stand 10 minutes.
Properties:
Delicious and healthy recipe, full of natural antioxidants and medicinal components.
Nutritionally, this recipe gives us fiber and slow-digesting carbohydrates which provide sustained energy and satiety, which prevents snacking. Because of its vegetable protein content, it is a very nutritious dish.
Because the recipe combines various vegetables, we benefit from the diuretic properties of garlic, chile digestive properties and quercetin from onion.
Ideal for taking as main dish meal.

More recipes and information about prickly pear in the listing above
Other interesting articles
This material is for informational purposes only. In case of doubt, consult the doctor.
"Botanical" is not responsible for damages caused by self-medication.