Strawberries with yogurt and rice
STRAWBERRIES WITH YOGURT AND RICE
Ingredients for four people:
- 320 g of brown rice.
- ¾ kg of strawberries
- 1 orange
- Honey
- Lemon rind.
- 1 small onion.
- Water.
- 1 yogurt.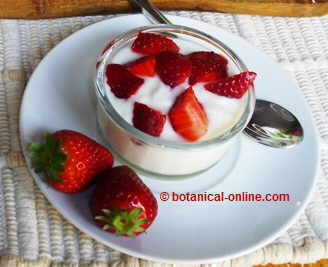 Strawberries with yogurt
Preparation
- Cut the onions into thin strips.
- In a pan, pour the rice and cover it with water. Add the onion and the lemon rind and boil all them well.
- Once boiled, place the rice in a bowl.
- Cut the strawberries into pieces and cover the rice with strawberries.
- Sweeten the yogurt with honey and cover the strawberries with yogurt.
Ways to serve
Serve as a starter.

More information on natural food in the listing above
Other interesting articles
This material is for informational purposes only. In case of doubt, consult the doctor.
"Botanical" is not responsible for damages caused by self-medication.