PROPERTIES OF THE OAT PORRIDGE WITH APPLE
Porridge properties of oatmeal with apple
The apple porridge is one of the richest and healthiest porridge recipes, because it provides all the benefits of oats and the sweetness and properties of apple. From the Botanical-online team, it is one of the most recommended.
What benefits does the porridge with an apple have ?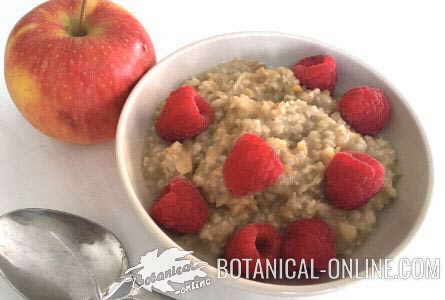 Delicious porridge of oatmeal with apple and lemon peel, decorated with some raspberries
As already explained in the properties of porridge, oats are energetic and very satiating, rich in fiber, provides a large amount of B vitamins and many minerals, among which magnesium stands out.
In addition, apple adds certain benefits to those who already own the porridge. Among these, is a fiber very rich in pectin, which is highly fermentable (prebiotic effect). Therefore, it will be a highly recommended recipe to improve the intestinal flora.
Apple is also very rich in malic acid, a great liver tonic. It is recommended to eat apple in liver cleansing diets (especially acid ones). In addition, it brings natural sweetness to the recipe, which means that it is not necessary to add any type of refined sugar.
All this is a perfect cocktail of energy and nutrients, ideal in any healthy diet, but especially recommended for children, athletes, people with low weight, obesity, cholesterol, and so on.
We especially recommend this recipe for porridge with apple and lemon peel because it is delicious and is liked by almost everyone. It is delicious!
Other benefits of consuming porridge at breakfast
Another of the intrinsic benefits of consuming porridge at breakfast is that, by consuming it, we do not consume other unhealthy foods, such as pastries, breakfast cereals, processed meat and other types of junk food.
APPLE PORRIDGE RECIPE
Ingredients for the apple porridge for 2 servings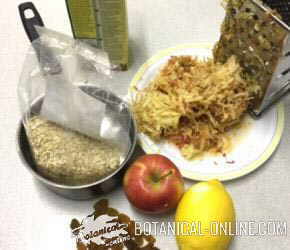 Ingredients of traditional oat porridge recipe
1 cup of fine oat flakes (also called oatmeal atole, instant oatmeal, thin flakes or soft flakes)
3 cups of milk or vegetable drink
2 grated apples with skin (if the skin is used, they are recommended ecological)
1 teaspoon of lemon peel (best ecological to avoid pesticide residues)
A few raisins
Preparing the porridge
Prepare the ingredients and put them all in a saucepan, except the spices, which are preferably added at the end, to better preserve their aromas.

Porridge preparation: oat flakes, apple with skin, lemon peel and vegetable drink in the pot.

Porridge prepared according to the recipe, decorated with raspberries to improve its presentation. It's really delicious!

Cook the porridge over medium heat for about 15 minutes. During that time, go stirring to thicken and cover. As it is heated, the starch in the oatmeal is hydrated and becomes a thicker mass. At the same time, the pectin in the apple gelatinizes and becomes more prebiotic (good for the intestinal flora). The porridge should not boil, because, if burned, the oats will be burned at the base.

Practically at the end of cooking, season with spices to taste.
How to serve the porridge
It is served hot or warm, in a bowl. It can be decorated with fresh or dried fruit (raisins, goji, banana, apple, etc.), seeds or nuts (ground flax, chia, nuts, etc.).
Other notes about the recipe
This is the recipe that we like the most and which we recommend the most, from Botanical-online, for all those who want to try the porridge or have it for breakfast as usual.
For those who want an even more powerful effect to improve the intestinal flora (more prebiotic), they can cool the porridge in refrigeration so that the oat starches become resistant starches.


More information on oats.
This article was endorsed by
Elisenda Carballido
- Dietitian nutritionist. Postgraduate in Phytotherapy and master in Nutrition and Metabolism.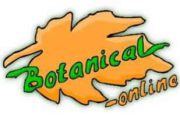 Written by
Editorial
Botanical-online team in charge of content writing