Thalictrum tuberosum L.
Meadow-rue
PHOTOS OF MEADOW-RUE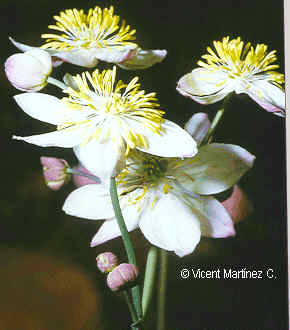 Photo of Thalictrum tuberosum
Thalictrum tuberosum L. - (Meadow-rue)
Plant from the Buttercup family - Ranunculaceae- till 50 cm tall. Erect simple stems .Pinnate -compound leaves. Differently to the rest of the meadow-rues, flowers are very conspicuous. Petaloid white-yellow sepals till 1.5 cm wide, with dark purple tinges below. Numerous stamens,shorter than the sepals. In shrubs and dry places. Poisonous plant.
More information about plants in the listing above.
Other interesting articles
This material is for informational purposes only. In case of doubt, consult the doctor.
"Botanical" is not responsible for damages caused by self-medication.