Vicia faba L.
Broad bean
PHOTOS OF BROAD BEAN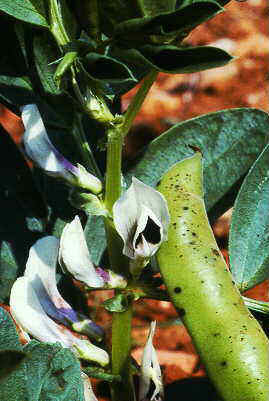 Photo of Vicia fava L.
Vicia faba L. - (Broad bean)
Herbaceous annual plant of the pea family -papilionaceae- up to 80 cm. tall. Quadrangular, robust stems. Compound leaves, till 3 ovate leaflets and with toothed stipules at the base. Very conspicuous flowers, till 2 cm, white with the wings smeared in black. The fruit is a pod, reaching 25 cm, pubescent. Seeds till 3 cm. Native from Asia, but naturalised and cultivated as food.
More information about plants in the listing above.
Other interesting articles
This material is for informational purposes only. In case of doubt, consult the doctor.
"Botanical" is not responsible for damages caused by self-medication.