Toxicity of common fumitory
(Fumaria officinalis)
CHARACTERISTICS OF FUMARIA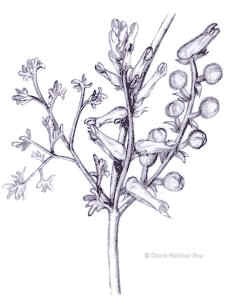 Common fumitory drawing (Fumaria officinalis)
By courtesy of © www.dibujosparapintar.com
Scientific noun: Fumaria officinalis L.
Common noun: Fumitory, common fumitory, drug fumitory, earth smoke
Family: Fumitory family - Papaveraceae
Habitat: Cultivated fields, path sides, and waste lands of calcareous nature in most places of Europe. Naturalized in America.,
Active properties of common fumitory
- Alkaloids: canadine, protopine -fumarine-, fumaricine, fumariline, estilopine, cryptonine, sanguinarine, coryladine...) Main of all is fumarine, (0,13%) which although it shows antihistaminic and antiasmathic properties, on a prolonged dosage may lead to respiratory disorders.
- Fumaric acid. (C4H4O4) present in body as a very active constituent which has to be administered very carefully. It has been used for the treatment of psoriasis, but a too high dosage can increase sugar levels in blood. It is being studies its properties as a possible anticancerous drug.
Industrially, it is used a a food additive, as acidifying preservative and savoring agent. Also as an industrial colorant and in the preparation of synthetic resins.
Active parts: The whole plant, specially the juice of leaves..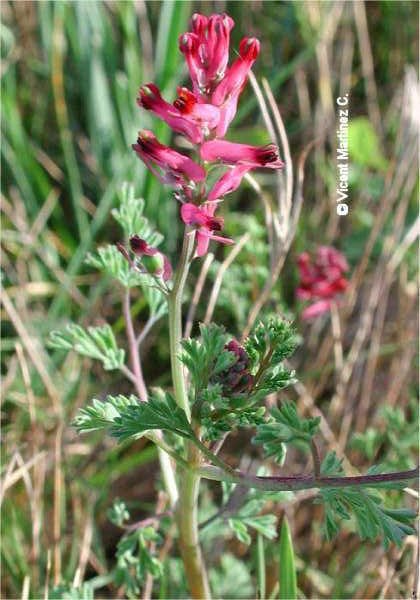 Photo of Fumaria officinalis
Uses of common fumitory
Fumaria officinalis has been uxed as a natural remedy with the following properties:
- Depurative
- Tonic
- Emollient,
- Hepatic
- Hipotensive, etc. (See its medicinal properties more detailes in the listing above)
Toxicity of fumitory
Toxicity of this plant is low, although we should be cautious not to use it for very long periods.

Symptoms: Stomachache, hypertension in low dosage and short treatments and hypotension in higher doses and long-period treatments. Very continuous dosage can produce respiratory breakdown.
Treatment: stomach rinsing, aided respiration and clinic help in case of high doses.

More information on fumaria in the listing above.
Other interesting articles
This material is for informational purposes only. In case of doubt, consult the doctor.
"Botanical" is not responsible for damages caused by self-medication.