Practical ways of transforming food starches into prebiotic fiber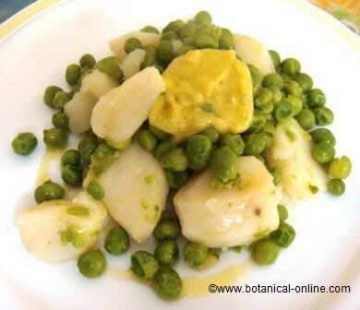 The process simply consists on refrigerating  the cooked food so that its starches crystallize and become prebiotic fiber.
The step-by-step recipe for removing starch from starchy foods, turning it into resistant starch, is as follows:
Cook the food, which can be potatoes, pasta, sweet potatoes, cassava, rice (brown or white), plantain, …
Drain: remove the water.
Let cool at room temperature for about 10 minutes, or go through cold water.
Refrigerate for about 4 hours.
Consume cold (warm or cold salads) or reheat. When it is consumed cold, it is when it conserves more resistant starches.
prebiotic potato
Recipes with resistant starches
Some recipes with resistant starches are:
Important tips to follow the recipe well
Some common doubts and mistakes when cooking food to transform starches are as follows:
(!) Starchy foods must be cooked before being cooled. Otherwise, if the food is raw, retrograde starches do not form.
(!) They have to be cooled  in refrigeration, not at room temperature, since the crystallization of the starch (the necessary step to become retrograde starch or resistant starch) occurs at temperatures of less than 5ºC, at least about 4 hours.
(X) Do not cool to room temperature, refrigeration temperatures of at least 5ºC are required.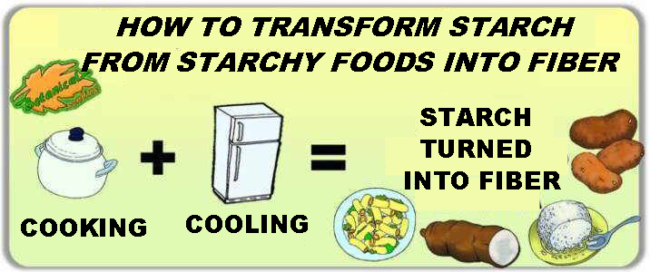 What happens if the food is reheated?
When overheated, starches gelatinize and the number of starches in the food increases again. However, reheated food has a higher proportion of resistant starch than the dish itself before it has been chilled.
Benefits of transforming starch into fiber
The main advantage of transforming starch from food is that this process lowers the calories of transformed food, its glycemic index an improves the digestion of starch.  So, it is better tolerated for people with diabetes and obesity, .
Another great advantage is that resistant starch, due to its structure, has been proven to have a high fermentative power and therefore is a fiber with great prebiotic potential, to feed the microbiota or intestinal flora. These are all the microorganisms in the intestine that feed on the fiber we consume in the diet, mainly carbohydrates, in the form of fibers and starches.
In summary, removing starch through turning it into resistant starch (turning starches into fiber) is good because:
It contributes less calories: Starches cannot be digested (they act like fiber) and therefore these foods provide less calories (yes, only with the simple fact of cooking and cooling!)
It lowers the glycemic index by preventing starches from being absorbed from food.
Diabetes and obesity: for all the aforementioned, this way of consuming starchy foods is better for diabetes as it has a more tolerable glycemic profile
Prebiotic: They have a beneficial effect on the intestinal flora.
(* Go on reading: Advantages of  getting rich of starches of rice, potatoes and pasta)


More information on resistant starch and carbohydrates
This article was endorsed by
Elisenda Carballido
- Dietitian nutritionist. Postgraduate in Phytotherapy and master in Nutrition and Metabolism.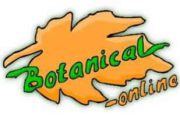 Written by
Editorial
Botanical-online team in charge of content writing