Basil side effects
(Ocimum basilicum)
SIDE EFFECTS OF BASIL
What are basil side effects?
- Toxic effects: scientific studies warn that high doses of estragole (like when using basil essential oil) may be toxic because of its carcinogenic potential. For the same reason long treatments with the essential oil of basil are contraindicated .

* More information about the contraindications of basil in the listing above.
- Intoxication: There is a risk of poisoning when using basil essential oil. The risk of poisoning by eating fresh or dried plant as a spice is very low.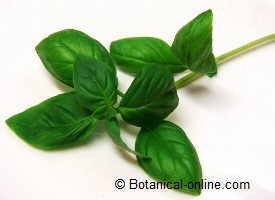 Basil leaves
- Contact dermatitis: in some people, contact with the fresh plant can cause contact dermatitis. Apply Remedies for dermatitis.
- Headache: in high doses basil essential oil is considered narcotic. It may produce headache or other unpleasant symptoms

More information about basil in the listing above.
Other interesting articles
This material is for informational purposes only. In case of doubt, consult the doctor.
"Botanical" is not responsible for damages caused by self-medication.