How to say Chinese rhubarb in other languages?
Chinese rhubarb in Spanish, French, German, Italian…

– Common English name: Chinese rhubarb, rhubarb root, Turkey rhubarb, ornamental rhubarb, Turkish rhubarb, Indian rhubarb, Russian rhubarb
Common name in other languages:
– Spanish / Español: Ruibarbo chino, raíz de ruibarbo (referido a sus rizomas), ruibarbo de Turquía, ruibarbo ruso, ruibarbo de las indias orientales, ruibarbo dinamarqués.
– Catalan / Català: Ruibarbre turc, ruibarbre xinès, arrel de ruibarbre,
– Italian / Italiano: Rabarbaro cinese
– German / Deutsch: Handlappiger Rhabarber, Handlappiger Rhabarber, Chinesischer Rhabarber, Handförmiger Rhabarber, Handförmiger Rhabarber
– Polish/ Polski: Rabarbar dłoniasty
– Dutch /Nederlands: Rabarder
– Swedish /Svenska: Flikrabarber
– Romanian / Română : Rubarbă chineză
– Русский / Russian: Реве́нь па́льчатый
Scientific name: Rheum palmatum L.


More information on Chinese rhubarb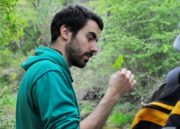 Written by
Julián Masats
Technical agricultural engineer specialized in horticulture and gardening.