This article was endorsed by
Julián Masats
- Technical agricultural engineer specialized in horticulture and gardening.
What is turmeric (Curcuma longa)?
Characteristics of turmeric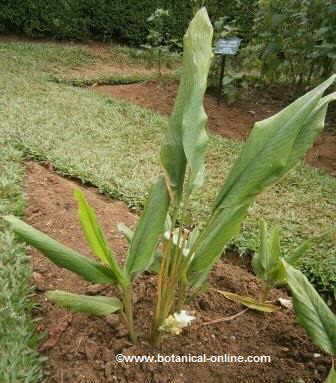 Turmeric flowers and leaves
Common English Name: Turmeric, Indian saffron indian…
Common name in other languages
– Spanish: Cúrcuma, palillo, azafrán de raíz, yuquilla
– Catalan: Cúrcuma
– Euskara: Kurkuma
– Galician: Cúrcuma
– Portuguese: Cúrcuma, açafrão-da-índia, turmérico, raiz-de-sol, açafroa, gengibre amarelo
– French: Curcuma
– Italian: Curcuma
– German: Kurkuma, Kurkume
– Dutch: Gurkemeje
– Danish: Kurkuma
Scientific name: Curcuma longa L. The name derives from " kurkum" that in Persia meant saffron.
Taxonomic synonyms: Curcuma domestica Valeton., Amomum curcuma Jacq.; Stissera curcuma Raeusch., Curcuma zedoaria Berg.; Curcuma aromatica Salisb.
Family: Zingiberaceae
Where is turmeric from?
Originally from South-East Asia, it is cultivated in pan-tropical areas.
It grows in arid geographic areas with substantial rainfall to develop its rhizomes, which are intended for culinary use.
In Asian countries it is a common grass, and in some areas it has become a "weed" field.
Botanical description of turmeric
Turmeric is a perennial plant from 60 centimeters to 1.5 meters high. It has thickened rhizomes, finger-shaped, that is to say, underground stems with several buds, and grows horizontally.
From rhizome roots and herbaceous plant shoots arise. Rhizome supports the plant because it is rich in starch, so it is also the part that is consumed in the kitchen. It can remind us the ginger rhizome, cylindrical in shape, color and with a distinctive bright orange or yellow inside. Its surface is gray, brownish or yellowish color.
It is a stemless plant, that is, it has no stem and leaves arise directly outside from rhizome
The Latin name of the plant, Curcuma longa, refers to the leaves with long petioles, oblong limbo, large and thin. Measuring 20 to 70 centimeters long and 8-18 cm wide, although some somples can reach sizes up to 1.2 meters.
Its inflorescence is terminal, spike- shaped and cylindrical, bearing spikes up to 20cm long. They have laterally green united bracts with reddish spots.
Its flowers are zygomorphic, hermaphrodite and bracteate. The calyx is tubular, with three sepals and a crown made up of three petals, yellow or white.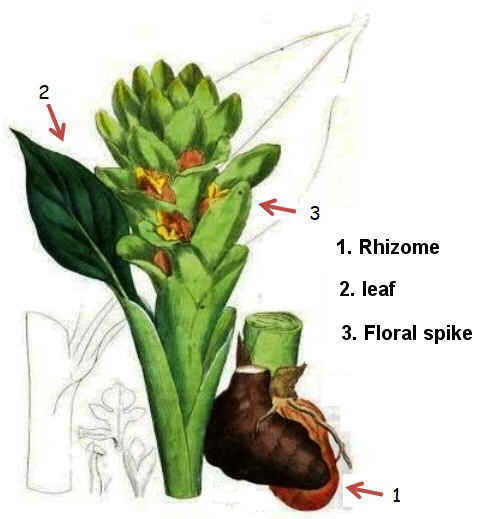 Composition of turmeric
Anthraquinones: 2hydroxymethylanthraquinone.
Monoterpenes: 1,8cineole, camphene, terpinene, azulene, alphaphellandrene, borneol, camphor, alphapinene, 2bornanol, sabinene
Sesquiterpenes: alantone, turmerone, bisacumol, bisacurone, bisabolene, caryophyllene, curcumene, curcumenone, bisabolene, betasesquiphellandrene
Steroids: campesterol, stigmasterol.
Organic acids: caffeic acid, caprylic acid, cinnamic acid.
Polyphenol: curcumin (chemically: 1,7bis (4hydroxy3methoxyphenol) 1,6heptadiene3,5dione) or dipheruloylquinone).
Curcuminoids: bisdemethoxycurcumin, dihydrocurcumia, dehydroturmerone, curlone.
Terpenes: curzerenone.
Phenols: guaiacol.
Composition of turmeric rhizome per 100g.

(Curcuma longa)

Nutriente

Amount

Calories (Kcal)

354

Carbohydrates (g)

64,93

Proteins (g)

7,83

Fats (g)

9,88

Fiber (g)

21,10

Vitamin C (mg)

25,90

Vitamin B3 or niacin (mg)

5,14

Iron (mg)

41,42

Zinc (mg)

4,35

Selenium (mcg)

4,50

Manganese (mg)

7,83
Phytochemicals in turmeric essential oil

(Curcuma longa)

Nutrient

Amount

(in ppm)

Curcumenene

121.700

Curcumin

38.888

Turmerone

43.200

Cineole

29.200

Terpinene

27.200

Curcumenol

21.300

Curzerenone

20.400

Curdione

11.900

Desmethoxycurcumin

11.100

Limonene

2.300

Eugenol

2.100

Linalol

1.600

D-camphor

1.500

Alpha-phelandrene

720

Terpineol

500

D-camphene

480

D-sabinene

432

Isoborneol

200

Dihydrocurcumin

57
*Source: Dr. Duke's Phytochemical and Ethnobotanical Databases

More information about turmeric.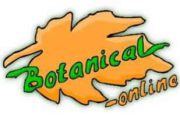 Written by
Editorial
Botanical-online team in charge of content writing