Diet for stomach acidity and heartburn
Can a suitable diet prevent heartburn?
Heartburn treatment requires a physician to diagnose the real causes which are causing the stomach acidity.
However, if it has been correctly diagnosed and proper treatment has been applied, we can still make use of a series of dietary tips or rules that will be very useful in preventing heartburn and gastric reflux into the esophagus.
Dietary tips to prevent heartburn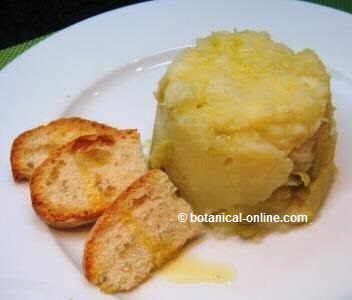 Mashed potatoes with cabbage are very good for heartburn. Consult the recipe
Among all we could mention:
Do not take copious meals : Several light meals should be made every day. Avoid copious meals. It is better to divide an abundant heavy meal into several light ones.
Avoid unsuitable food: Do not take too much high fat foods, spicy, or sugary foods. Replace them for highfiber vegetable protein.
Eat slowly: Only by doing so, food is properly chewed to attain good digestion. Avoid swallowing to much air that will be expelled mixed with acids.
Correct use of beverages: If possible, do not drink during meals. Do not drink carbonated drinks or those containing alcohol or caffeine (coffee, chocolate, alcohol in general)
Avoid doing exercise after meals.
Rational use of bed: Do not lie down after eating. Do not lie supporting the abdomen directly above the bed but do it on your side. Try to have your head higher than the body when lying down. If you suffer from heartburn of gastric reflux it is better for you to use a pillow. You can also buy a mechanical bed to set your head higher than your stomach.
Other tips to prevent gastric reflux
Avoid obesity and constipation.
Correct use of clothing: Do not wear clothes too tight which may press your abdomen too hard.

Steamed, boiled or raw carrots are recommended for stomach disorders, including heartburn
Which food is suitable for heartburn? Must you moderate some foods? Which food should be avoided?
The following chart shows a list of food according to their power to produce heartburn.
– In the first column you can see the main foods with no probabilities of causing heartburn. You can eat them freely.
– In the second column, there is a list of food with a low probability of causing or worsening it, so you must limit its consumption, although you can eat them from time to time.
– The third column shows a list of highly acidity producing food. You must avoid them.
Food classification according to their power of causing heartburn or acid reflux
Safe food
Moderately safe
Unsafe food
Apple

Apple juice

Beef (very lean)

Bread (white of whole)

Broccoli

Cabbage

Cereals

Cheese (goat, feta)

Chicken (skinless breast)

Cookies(fat-free)

Corn bread

Egg (whites)

Fish

Green beans

Jelly

Mineral water

Oils

Peas

potato (Baked, baked chips)

Rice cakes

rice(brown or white)

Salad dressing

Soy cheese (low-fat)

Sweets (low-fat)

Apple (cider)

Beef (ground lean)

Beer

Beer (Non-alcoholic)

Blueberries

Bread(garlic)

Chicken (not breast)

Cookies (low-fat)

Cottage Cheese (low-fat, cheddar, mozzarella)

Cranberries

Eggs (fried, scrambled, boiled)

Fish (fried)

Granola cereal

Ham

Hot dog

Leeks

Milk, 2 percent or skim

Muffin

Onion (cooked)

Pork

Root beer

Sauerkraut

Scallions

Tuna

Yogurt

Brownies

Buffalo wings

Butter cookies(high-fat)

Cheese (Cottage cheese, regular cheese)

Chicken (nuggets)

Chips

Cola

Chocolate

Coffee (regular or decaffeinated)

Corn chips

Cranberry (juice)

Doughnut

Grapefruit (juice)

Ground beef (chuck)

Ice cream

Lemonade

Liquor

Macaroni (with cheese)

Milk shake

Onion (Raw)

Orange (juice)

Salad dressings (creamy, vinegar)

Sour cream

Spaghetti (with sauce)

Tea, (regular or decaffeinated)

Wine


More information on heartburn natural treatment.
This article was endorsed by
Elisenda Carballido
- Dietitian nutritionist. Postgraduate in Phytotherapy and master in Nutrition and Metabolism.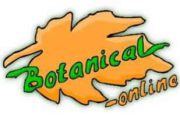 Written by
Editorial
Botanical-online team in charge of content writing