Home remedies for blisters
Phytotherapy: Medicinal plants to cure the blisters in your feet or hands
The main function of phytotherapy consists on using those plants with the following purposes:
Using plants with bacterial properties that will prevent the infection of the blisters.
Using healing plants that will help cure them.
Natural treatments for blisters
External use plants for blisters
Mallow: (Mallow sylvestris) Whenever we have pimples or boils, sores, ulcers or any type of skin lesion, the properties of the mucilage contained in this plant will serve to soften (Decoction of 100 gr. of dried plant per liter of water. Apply with a swab on the affected areas) (Poultice of crushed tender plant on the affected skin)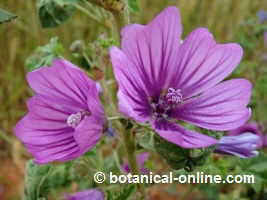 Mallow flowers
Marigold: (Calendula officinalis, Calendula arvensis) It helps the open blisters to heal better (Infusion of a teaspoon of flowers by glass of water. Wet the affected zone.)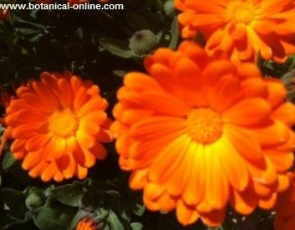 A detail of marigold flowers
Chamomile: (Matricaria chamomilla) Its richness in mucilages gives it a repairer of skin conditions, The large presence of compounds with antiseptic properties and vulnerary apigenin, chamazulene, gentisic acid, etc make it very suitable for the care and repair of skin conditions (Apply wet compresses on the affected part. They will be made fully charged with an infusion of dried flowers in a couple of liters of water for 15 minutes. The flowers should be of the annual harvest. It must not be stored more than one year.)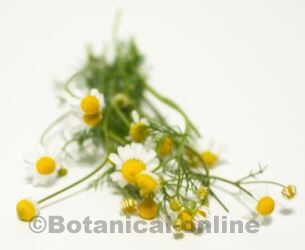 A detail of chamomile flowers
Garlic: (Allium sativum) It is one of best disinfectants. (Wet the zone affected with a gauze wet in tincture or simply rub the affected part with garlic juice)
WitchHazel: (Hamamelis virginiana) the decoction of a spoonful of witch hazel crust by a liter of water can be used for feet baths.
This treatment would be wonderful to alleviate the feet tired after a long walk. If blisters appear as a result of rubbing the shoes with the skin, the antiseptic properties of witch hazel will prevent them from getting infected. Witch-hazel also promotes healing.
This remedy can be used by those pilgrims who make the journey of the " Route of Santiago" and often have many problems with his feet after walking so many hours. If you do not have witch hazel bark, you can dilute a few drops of witch hazel tincture in a pan of hot water and leave the feet for 10 minutes.
To cure the sores you can use witch hazel cream (Put it on the affected area and cover with a small bandage)


More information on blisters and other skin lesions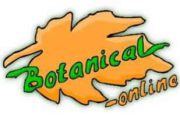 Written by
Editorial
Botanical-online team in charge of content writing