PROPERTIES OF CASCARA SAGRADA
CASCARA SAGRADA FOR CONSTIPATION
The medicinal use of cascara sagrada is especially related to the treatment of constipation. But its power as a laxative or purgative is not the only property in herbal medicine.
Among the main medicinal properties of cascara sagrada, we can mention the following:
– Constipation: Among all the plants that contain anthraquinones, which are used to treat constipation, cascara is the least irritating of all, so it is most suitable vegetable recommended as laxative. It is the plant that produces less habituation, because it produces fewer side effects. Still, one should read well the toxicity, contraindications and side effects before starting treatment.
– Loss of appetite: Because of its cholagogue properties, cascara preparations have been used to whet the appetite
– Emptying intestinal products: These kind of preparations are used to empty the intestines before a person undergoing intestinal examinations or before surgery of the rectum or anus.
– Hemorrhoids: Some experts do not recommend treatments to get softer stools, which may encourage defecation in cases of hemorrhoids. The reason is that this type of plants increases the symptoms of hemorrhoids producing more irritation.
However, other specialists prescribe these remedies because they believe that, although they may temporarily irritate hemorrhoids, they favor the expulsion of feces, so, as a result, they eventually exert a beneficial effect on them.
– Cholesterol: Lowering fat intake can have a beneficial effect on cholesterol. However, there are other plants for cholesterol that are even more effective without the potential risks involved in this plant (See cascara sagrada toxicity in the listing below)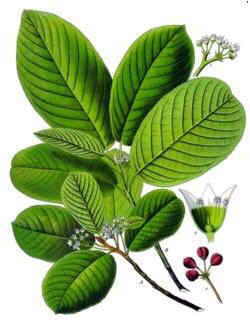 Cascara sagrada leaves according to Koehler's Medicinal Plants 1887
How to take cascara?
Doses of cascara should be as small as possible to ensure soft stool. The usual dosage is one teaspoon of crumbled dried bark per cup of water.
We will take a cup before bedtime, or split this into two doses, one before bedtime and the rest the next night.
Other possible preparations available in pharmacies and herbalists include: dry capsules, fluid extract, powder capsules or tincture (Take according to the terms of the patient's leaflet).
Cascara has a very bitter taste and it is quite hard to take when it is done through the decoction of the bark. It can be sweetened with honey or mask the taste with a little anise.
However, it is more advisable to use standardized preparations because they do not require the product contact with the taste buds.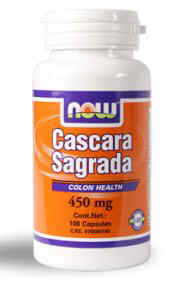 Cascara sagrada capsules
When do preparations of cascara sagrada act?
These products tend to operate between 6 and 10 hours after having been ingested. Usually, taken before bedtime, they produce the evacuation in the early hours of the morning.
However, if effect does not take place within the first 8 hours, you can take another dose in the morning. In this case, we should take into account whether the person concerned must leave home or be somewhere or in some activity where one can not have a spare moment to make their depositions.
The use of cascara sagrada can dye your urine yellow because some components of this plant are eliminated through urination. This is normal and does not pose any danger.


More information about cascara sagrada.
This article was endorsed by
Montserrat Enrich
- Journalist specializing in edible wild plants and plant uses.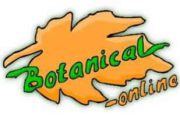 Written by
Editorial
Botanical-online team in charge of content writing