When you should not take maca
CONTRAINDICATIONS OF PERUVIAN MACA
Why is maca used?
Maca is a Peruvian plant used since ancient times as revitalizing and remineralizing to treat anemia, chronic fatigue and increase energy. It also enhances endurance and physical performance of athletes.
Studies have also reported that increases memory and fertility.
Women use maca to treat menstrual problems and menopause symptoms. Maca is also used to prevent osteoporosis, depression, dysfunction and stimulant properties.
What are the main contraindications of Maca?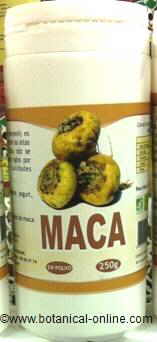 In the photo: supplement of maca
Maca is a safe supplement for health, so it does not present any serious contraindications for healthy adults.
Who should avoid taking Maca?
Allergy to the maca: Allergy to this vegetable may occur, although it is unusual. It can also be produced by cross contamination, in the case of powdered maca, if it is processed in factories that also handle other raw materials likely to cause allergy. People with allergy problems should consult the container to rule out the presence of possible traces of allergens.

People with antidepressant medication: Although Maca has been shown effective in improving the side effects of antidepressant medication (SSRIs), it is imperative that a qualified physician supervise the treatment with maca in these people.

People with autoimmune diseases: Maca can boost the immune system, but people with autoimmune diseases can experience a worsening of their symptoms if they choose maca supplementation. Before taking maca, you should consult your doctor.
Maca during pregnancy and lactation
Maca for pregnant and lactating women. The safety of maca in pregnant or lactating women has not been demonstrated. However, it is clear that this plant is used as food in many villages, although not as concentrated as it is in the West (maca powder). As a precaution, it is not recommended to take maca powder during pregnancy and lactation.
Maca and anticoagulant medications
There is a well-known contraindication between foods that contain vitamin K and anticoagulant medications such as Sintrom or warfarin. These anticoagulant drugs act by blocking vitamin K, which is coagulant. If the diet is very rich in vitamin K, the drugs lose effect and clots and thrombi may occur.
Precisely, maca is a plant of the cruciferous family, such as cabbage, broccoli, arugula, radishes or turnips. All these vegetables are the foods with the highest vitamin K content.
In case of taking anticoagulant drugs such as Sintrom or warfarin, it is advisable to consult with the doctor before taking maca, take it in small quantities and not combine it with foods rich in vitamin K.
How to take maca?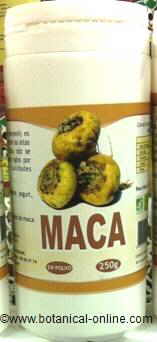 Maca supplement
Start the treatment with 1.5g. of maca daily, divided into 3 doses of 0.5g .; during a period of 30 days.

If you want to increase the dose, treatments with 3g. newspapers have been effective: divide 3g. maca newspapers in three shots of 1g. If with the supplementation of 1.5g. daily and notice improvement, it is not necessary to increase the dose.
Precautions with maca
Scientific studies show that a daily dose of 1.5 g. is as effective as a treatment with 3g. of maca daily. Therefore, it is not recommended to take maca in excess.
Do not perpetuate maca supplementation for more than 3 months.
Is maca contraindicated for cancer?
In principle, maca is not contraindicated during cancer, but professional medical advice is recommended. (More information on Maca for cancer)


More information on maca.
This article was endorsed by
Montserrat Enrich
- Journalist specializing in edible wild plants and plant uses.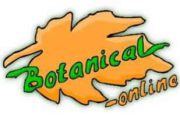 Written by
Editorial
Botanical-online team in charge of content writing