MACADAMIA NUTS OIL PROPERTIES
What is macadamia oil?
Macadamia oil is the the oil resulting from the extraction by cold pressing of macadamia nuts. It has a fine texture and its flavor and aroma can remind those of sesame oil.
Macadamia nuts possess a delicious nut flavor, used especially in the gourmet kitchen. They show a very distinctive flavor, like walnuts, creamy and pleasant.
Macadamia nuts are the dried fruit with the highest percentage of fat that exists (above 70%).
The resulting oil is a liquid fat, macadamia oil, which can be used in food, besides, for its high palmitoleic acid content, it has interesting cosmetic applications.
Macadamia oil composition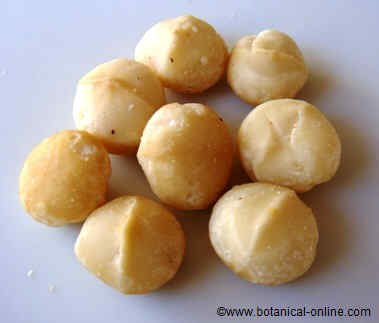 Photo of macadamia nuts
Macadamia oil contains mostly monounsaturated fat:
Oleic acid: macadamia oil is rich omega9 oleic acid. It has antiinflammatory properties for skin care and for treating hair loss.
Macadamia oil has therefore cosmetic applications similar to olive oil or argan oil, as both are rich in omega 9.
Palmitoleic acid: it is a monounsaturated fatty acid such as oleic acid, which has skin care properties for external factors such as wind or cold.
It is a kind of ideal fat to make soap, and to spread on the skin without this becoming greasy. Macadamia oil is suitable for oily skin.
Composition of macadamia nuts oil per 100g.
Composition of macadamia nuts oil per 100g.
Nutrient
Amount
(g.)

SATURATED FATTY ACIDS

12

Lauric acid (12:0)

0,08

Myristic acid (14:0)

0,66

Palmitic acid (16:0)

6,04

Stearic acid (18:0)

2,33

Arachidic acid (20:0)

1,94

Behenic acid (22:0)

0,62

UNSATURATED FATTY ACIDS

60,38

from whom monounsaturated:

58,88

Palmitoleic acid (16:1)

12,98

Oleic acid (18:1)

43,76

from whom polyunsaturated:

1,50

Linoleic acid (Omega 6) (18:2)

1,30

Linolenic acid (Omega 3) (18:3)

0,20
Macadamia oil properties
For skin and cutis care : macadamia oil is a light oil that it is absorbed quickly into the skin and causes no greasy feeling. It has soothing and calming properties for the skin. It is considered a stable fat that protects cells from oxidation, helping to prevent premature skin aging.
It can be used, for example, in masks to treat dry skin, scars, the contour of the eyes skin or chapped lips.
For dandruff: macadamia oil can be used to stimulate the scalp due to percutaneous stimulating properties. It also contains fatty acids that help treat, dandruff, hair loss (oleic acid, linoleic and palmitic).
For treatment with essential oils: macadamia oil can be combined with essential oils for different hair treatments, increasing other product properties and improving their effectiveness. For example, it can be mixed with rosemary essential oil to treat dandruff, or lavender essential oil for seborrhea.
Mixing a few drops of essential oil and applying it to the skin as a massage can be also used for different applications massages: relaxing, stimulant, aphrodisiac, drainage, Ayurvedic, contractures, for back pain, or to treat any ailment.

Macadamia oil has a roasted nut odor combining all types of aromas. Because of its stability, it can be used as a vehicle for essential oils. Applying it in a massage will help improve circulation and will stimulate the irrigation of blood capillaries.

This oil is retained for a long time without being altered, it is rich in monounsaturated fatty acids omega 9 that are very stable.
Precautions with macadamia nuts oil
Macadamia nuts oil can cause sensitivity. Be careful with the use of macadamia oil in case of dermatitis.
Allergy: some lotions prepared with macadamia oil can contain traces of other components such as pistachios or peanut oil. People with allergies to nuts should consult the labels of these products.


More information on macadamia nuts.
This article was endorsed by
Montserrat Enrich
- Journalist specializing in edible wild plants and plant uses.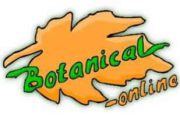 Written by
Editorial
Botanical-online team in charge of content writing