CHARACTERISTICS OF MACADAMIA
What is a macadamia tree?
Common English Name: Australian Nut, Macadamia Nut, Queensland Nut, Smooth-shelled Macadamia, Bush Nut, Poppel Nut, Bauple Nut, Bopple Nut…
Scientific name: Macadamia integrifolia Maiden & Betche.
*See: Macadamia in other languages
Family: Proteaceae
Source: shrub native to the eastern part of Australia, Queensland area.
Habitat. Where does macadamia grow?
It inhabits open zones of the coastal forest of central eastern Australia (New South Wales and Queensland). Introduced in the tropics (Ceylon, Hawaii).
Distribution: grown in Australia, Hawaii, Southern California, Florida, Cuba, Central America (Costa Rica), Brazil, Kenya, Indonesia, Taiwan and East Africa.
Macadamia tree description
The macadamia nut or Australian nut is the seed of an evergreen tree (Macadamia integrifolia), belonging to the Proteaceae family, which can reach up to 20m. high, but it generally does not exceed 12m. The tree has a dense and rounded crown. It is very attractive, so it is also used as an ornamental tree.
It is a slow growing tree that requires between 5 and 12 years to start producing fruit, and reaches maximum productivity at age 15.
It has a taproot with few lateral roots, so the tree requires protection from strong winds.
Macadamia leaves are petiolate, opposite, oblong, glossy, pale green with wavy margins that become serrated when they grow up.
The inflorescence is a hanging cluster 10-20cm. in length, which grows from the axils of the leaves, where the flowers are arranged. The flowers are hermaphrodite, white or cream. It is a honey plant and its flowers are pollinated by bees, bumblebees and hoverflies. * View video: Pollination of a flower.
The fruit is an edible nut spherical white – cream, located inside a smooth and brown hard pericarp, which in turn is within a soft green shell, dehiscent at maturity. The macadamia nut is between 2.5 and 3.5 cm in diameter.


Used parts
– Nuts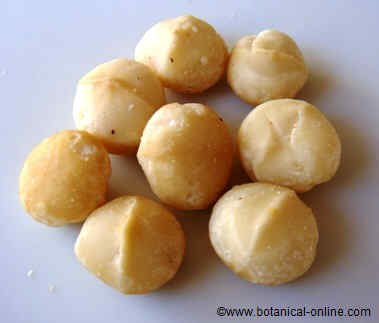 Macadamia nuts
Uses of macadamia
The macadamia nut is prized for its refined roasted walnut-like flavor and for it smooth, creamy texture. However, due to its high cost of production (a tree is not productive until 10-15 years), the fruit has a high price when you buy retail, hindering its introduction in the kitchen and only reserving it for selected recipes.

The seeds may be milled to produce a flour, which is known as macadamia flour or macadamia meal. This flour is added to cereals to enrich the protein content and can be used for making cakes, muffins, ice cream, sauces, etc.
Macadamia nut is gluten free, so it can be consumed by people with celiac disease or gluten allergy.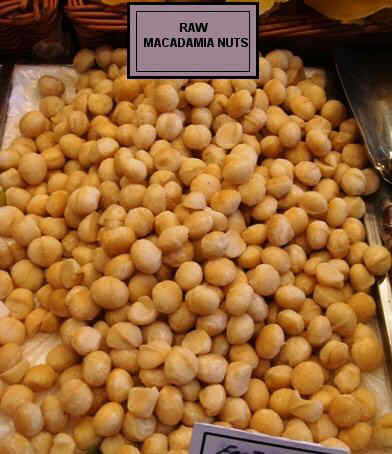 Photo of raw macadamia nuts, such as they are sent in the market
Medicinal: Macadamia nuts have a medicinal value as food rich in monounsaturated fats, which obtains its value as a source of healthy fats in any balanced diet and especially to help prevent heart disease and lower cholesterol levels.
Cosmetics: By pressing of the seeds, an edible vegetable oil is obtained, which is used both in food and in cosmetics.
Composition of macadamia nuts
It only contain 10% carbohydrates, can be taken in moderation, in lowcarb diets such as diets for menopause.
Fats: They contain mostly fat (75-80%) and a lower protein percentage (79%).
Because of its high fat content, it is a highenergy food, very appropriate for athletes, children or persons performing much physical activity during the day.

They are the main nutrient macadamia nuts, contributing to more than 80% of the caloric value of this food. Macadamia nuts are a food source of monounsaturated acids, such as oleic acid and palmitoleic acid.

If we include macadamia nuts in food, we will benefit from the properties of Omega 9 to health.
Tryptophan is the limiting amino acid.
Vitamins: They are a good source of B vitamins, especially niacin and thiamine. Provides good amount of alpha-tocopherol (vitamin E).
Minerals: is a good source of manganese and contains very little sodium.
Phenolic compounds: catechin and pyrogallol, among others, which have antioxidant properties.
Phytosterols: beta-sitosterol, campesterol.
Squalene
Cyanogenic glycosides: The seeds contain cyanogenic glycosides (proteacine, dhurrine), toxic principles contained in some other species of the same botanical family.
However, the commercial varieties containing a very small amount of these compounds (less than 4.05 mcg. Of HCN per gram).
The species that contain high amounts of cyanogenic glycosides are not edible, or must go through a leaching process to lose its toxicity before it can be consumed.
NUTRITIONAL FACTS: MACADAMIA COMPOSITION
Composition of macadamia nutsper 100g.

Nutrient

Amount

Water

1,36 (g)

Calories

718 Kcal

Fats

13,82 (g.)

Protein

7,91 (g.)

Carbohydrates

75,77 (g.)

Fiber

8,60 (g.)

Vitamin C

1,20 (mg.)

Vitamin B1 (Thiamin)

1,20 (mg.)

Vitamin B2 (Riboflavin)

0,16 (mg.)

Vitamin B3 or niacin

2,47 (mg.)

Vitamin B5 or pantothenic acid

0,76 (mg.)

Vitamin B6 or pyridoxine

0,28 (mg.)

Folates

11 (mcg.)

Vitamin E

0,54 (mg)

Calcium

85 (mg.)

Magnesium

130 (mg.)

Manganese
4,13 (mg.)
Phosphorus

188 (mg.)

Sodium
5 (mg.)
Potassium

368 (mg.)

Iron

3,69 (mg.)

zinc

1,30 (mg.)

Copper

0,76 (mg.)

Selenium

3,60 (mcg.)

Phytosterols, from whom:

116 (mg)

Beta-sitosterol

108 (mg)

Campesterol

8 (mg)
MACADAMIA FAT COMPOSITION
Analysis of macadamia nuts fats per 100g.
Nutrient
Nutrient(g.)

SATURATED FATTY ACIDS

12

Lauric acid (12:0)

0,08

Myristic acid (14:0)

0,66

Palmitic acid (16:0)

6,04

Stearic acid (18:0)

2,33

Arachidic acid (20:0)

1,94

Behenic acid (22:0)

0,62

UNSATURATED FATTY ACIDS

60,38

from whom monounsaturated:

58,88

Palmitoleic acid (16:1)

12,98

Oleic acid (18:1)

43,76

from whom polyunsaturated:

1,50

Linoleic acid (Omega 6) (18:2)

1,30

Linolenic acid (Omega 3) (18:3)

0,20


More information on macadamia.
Botanical classification


Kingdom

Plantae – Plants

Subkingdom

Tracheobionta

Vascular plants

Superdivision

Spermatophyta

Seed plants

Division

Magnoliophyta

Flower plants

Class

Magnoliopsida

Dicotyledonous

Order

Proteales

Family

Proteaceae

Gender

Macadamia

Species

M. integrifolia


More information on macadamia.
This article was endorsed by
Elisenda Carballido
- Dietitian nutritionist. Postgraduate in Phytotherapy and master in Nutrition and Metabolism.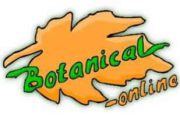 Written by
Editorial
Botanical-online team in charge of content writing