MEDICINAL PROPERTIES OF CHINESE CINNAMON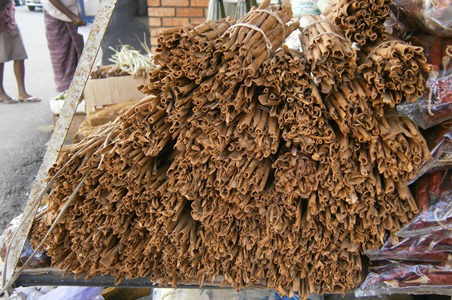 Photo of cinnamon in a market
Cinnamon from China or Cassia as a medicinal plant
Internal cinnamon medicinal uses
Digestive System: Cinnamon possesses carminative, antiulcer, stomach and antiemetic properties. The digestive properties of this plant are produced by essential oils containing dispersing properties of food. Likewise, these oils are responsible for stimulating saliva and gastric juices to facilitate digestion. These virtues are used for the treatment of digestive abnormalities such as:

Aerophagia: carminative properties of this spice is conferred by camphor. This allows you to remedy the excessive gas or flatulence accumulated in the digestive tract. (Infusion of a spoonful of cinnamon shredded per liter of water. Drink two glasses per day)
Difficult Digestions: Its components stimulate gastric acid and promote the disintegration of food which aids digestion. (¼ teaspoon ground cinnamon sold in pharmacies or herbalists before meals on a wafer or mixed with honey)
Acidity: Cinnamon is, at the same time, a good antacid against excessive acidity. Sprinkle a little cinnamon on foods will help reduce it and feel better.
Lack of appetite: Cinnamon aroma stimulates the digestion and whets the appetite, being adapted in cases of lack of appetite or anorexia. (Infusion of a spoonful of cinnamon shredded per liter of water. Drink two glasses a day half hour before meals) (add a pinch of cinnamon on the food after cooking and before serving)
Vomits: Camphor provides cinnamon with antiemetic properties ideal for the treatment of nausea or vomits. (¼ of a teaspoon of dust cinnamon of sale in pharmacies or herboristerías before the meals on a mixed capsule or with hone
External use remedies with Chinese cinnamon
Used externally, cinnamon is used primarily as an antiseptic for the treatment of diseases related to bacteria and fungi. External application has been interesting in conditions such as:
Vaginal Infections: infections of the vagina has been very useful, being able to neutralize those that are produced by yeasts, particularly those caused by Candida albicans. (vaginal lavage fluid resulting from the infusion of a spoonful of cinnamon branch shredded in a liter of water.)
Fungi in feet and nails: These same properties are useful in treating foot fungi, especially in the socalled athlete's foot and nail fungus. (Make a foot bath with the liquid from the infusion of two teaspoons of cinnamon broken up into a couple of liters of water.)
Respiratory Infections: For the treatment of the sore throat, pharyngitis laryngitis we can gargle with the liquid from the infusion of half a teaspoon of cinnamon shredded per glass of water.
Mouth ulcers: In case of mouth ulcers, make mouthwashes with the previous preparation.
Bad breath: The coumarins and vanilla have bacteriostatic properties which precludes the development of bacteria in the leftover food from the mouth and prevent halitosis. Keep in mind that cinnamon contains about 50 aromatic components, mainly for its rich in terpenes. (Perform rinses off liquid from the infusion of a couple of tablespoons of cinnamon shredded per liter of water) Do not ingest.
Specific medicinal properties of China cinnamon
Chinese cinnamon for diabetes
Recent studies seem to show that its use may be very appropriate in the treatment of diabetes. Because of its content in polyphenols, the daily treatment, between 3 and 6 grams of China cinnamon bark helps reduce sugar levels in patients of diabetes of type II, or non insulin-dependent diabetes.
According to some studies, cinnamon from China determined that the body does not need so much insulin to metabolize glucose. At the same time it is also shown to reduce cholesterol and triglycerides. Its use in reducing hypertension has not been proved.
In studies on mice it was found that China cinnamon, taken in tea, can protect against stomach ulcers, but it has not been demonstrated whether these same properties can also be applied to humans.
Is China cinnamon safe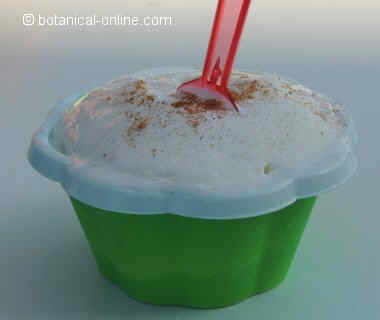 Cinnamon is used to flavor meringue milk
The use of preparations of cinnamon is contraindicated in pregnant or lactating women. Its use stimulates the movements of the uterus which can cause abortions.
Women who wish to become pregnant should not take it because it is believed to have contraceptive properties. In fact, in India, the women take it after childbirth to delay a possible pregnancy.
Also not to be given to children under two years.
Cinnamon bark, taken in excess or prolonged use, is toxic and can cause burning mouth, ulcers or sores in the mouth. In high doses is responsible for the onset of breathing difficulties or seizures.
At therapeutic doses (2-4 grams daily) can cause stomach problems such as diarrhea, gastritis, or allergic reactions in some people.
The essential oil obtained by distilling the leaves or the inner bark of this plant. The cinnamon leaf oil should only be administered under medical supervision. Its use may be responsible for the occurrence of digestive problems or kidney. In external use, it should be diluted and should be used with caution to avoid irritation.
The essential oil of cinnamon bark should not be used in internal or external use, since it is a powerful poison. In external use on skin may cause dermatitis or burns.


More information on cinnamon.
This article was endorsed by
Montserrat Enrich
- Journalist specializing in edible wild plants and plant uses.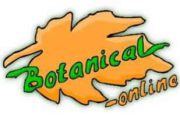 Written by
Editorial
Botanical-online team in charge of content writing