BENEFITS OF NONI JUICE
NONI JUICE CHARACTERISTICS
What is noni?
Noni is a shrub widespread throughout all regions of the Pacific and Indian Ocean, which has been used for over 2000 years in Polynesia.
Its importance in the culture of these regions is very important because it was traded for use as dye (root bark), for its medicinal properties (root, leaves and fruit) and the fruit for its value as food.
Noni was the red dye used to stain clothes and scarves in India. Different parts of the plant are cited in more than 40 registered herbal remedies, and many aboriginal legends tell of the importance of this fruit in the diet of the native people.
However, Noni is a curious fruit: it smells like cheese, which gives it the name of cheese fruit in some regions. It has a peculiar pale color and it is shaped like pineapple (both are infructescences) although with the size of a pear.
Noni as food

Noni juice containing a bottle of 500 ml. The instructions advise taking a tablespoon or two 30 minutes before the three main meals.
Nettles soup photo
In its native place, there is little literature on historical consumption. In these regions, the wholesomeness of noni is transmitted primarily through oral tradition from generation to generation, and also by its cultural use.
Noni is the favorite ingredient in curry prepared in Burma, and it is known that Aboriginal Australians were known for their fondness for this fruit. The ripe fruit was consumed with salt in some regions.
The first written information about the consumption of noni dates from 1769. In a letter, Sydney Parkinson, who was part of the crew of Captain James Cook in the Endeavour, recorded that Tahitians ate the fruit of the noni, being probably the first written description of the use of noni as food.
More than two centuries later, in 1943, the Government of the United States recognizes the noni fruit as edible. In the European Union, noni juice has been marketed since 2003. The regulation was published 2003/426/EC of 5 June 2003.
Because it is a highly perishable fruit, is not sold fresh in Western markets, but it is usually purchased in the form of juice.
Nutritional composition of noni juice
Noni juice mainly contains:
Carbohydrates: poly and oligosaccharides exert a probiotic function. Among the sugars we have glucose and fructose. It is a food that should be controlled by diabetics.

Protein: noni juice provides very low protein content, being a contribution close to zero.

Fat: The unripe fruit contain mainly fatty acids of 16 and 18 carbon atoms, while the shortchain fatty acids are predominant in the mature fruit and are responsible for its characteristic odor and unpleasant taste.

Fiber: Noni provides 1g of fiber per 100g. This is not the most remarkable part of the juice, as fresh fruit has more fiber content.

Vitamins: important contributions of carotene, folic acid, biotin, pantothenic acid and niacin.

Minerals: Noni contains magnesium, calcium, iron and phosphorus.
Who should take Noni juice?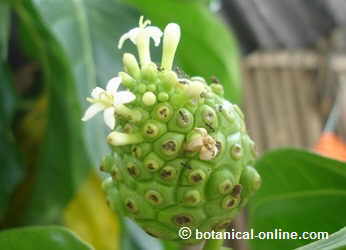 Noni flowers
Noni juice is specially recommended for:
People with high cholesterol. Noni is a highly recommended supplement for those with arteriosclerosis, cholesterol or hypertension because it has antioxidants and medicinal components that help improve these conditions and treat hypertension.

People with headache. Noni can be a timely remedy for cases of headaches. It was formerly used for this purpose, and current scientific studies have shown that it possesses sedative and analgesic properties.

For smokers. One study showed that noni juice taken regularly lowers cholesterol problems associated with smoking.

To prevent cold. Noni is an immune system stimulant that can help prevent cold.

For people with psoriasis. For its high content of antioxidants and Proxeronine, noni has shown is effective in helping to improve the appearance of the skin in people with psoriasis.

To improve the health of hair. For his contribution in biotin, noni is indicated to prevent hair loss. For the same reason, it is used externally in preparations like shampoos and creams to strengthen the scalp.
Other uses of noni plant
Noni dye . Due to the presence of anthraquinones in the roots and bark of the plant, these parts of the plant have been used as sources for coloring agents. Formerly they dyed scarves, carpets and clothing with this type of dye, which could be yellow or red depending on the species of Morinda used and the age of the plant. In ancient texts they are known as Soranjee roots, the dye from India.

Noni wood . Noni wood was very used, and in some regions is still used for the manufacture of canoes, tools, oars and furniture. There is a difference between wood of different species of Morinda. For example, Morinda citrifolia produces a not very resistant wood, but other species, such as Morinda tinctoria Roxb., posses very resistant wood, with a beautiful color, which is very precious.

Noni firewood. In some regions the trunk is used for firewood.

Noni wrapping. The leaves are used to wrap food for cooking.

Nonni fodder. The leaves are used to feed animals, such as cattle and pigs (so, it is called hog pork and pineapple fruit in some regions).

Nonni insecticide. The seed oil is an insecticide for the scalp and and insect repellent.

Noni in ceremonials . This fruit, so important in Polynesian medicine, is not free from religious ceremonies in some villages where the plant is native.
Nutritional composition of Noni juice

per 100g

Nutrient
Contents

Humidity (g)

90

Calories (Kcal)

163

Carbohydrates (g)

10

Proteins (g)

0,2 – 0,5

Fats (g)

0,1 – 0,2

Fiber (g)

0,5 – 1

pH

3,4 – 3,6

Vitamin B1 or thiamin (mg)

0,003 – 0,01

Vitamin B2 or riboflavin (mg)

0,003 – 0,01

Vitamin B3 or niacin (mg)

0,1 – 0,5

Vitamin B5 or pantothenic acid (mg)

0,15 – 0,5

Vitamin B6 or pyridoxine (mg)

0,04 – 0,13

Vitamin B7, H or biotin (mg)

1,5 – 5

Vitamin B9 o folic acid (mcg)

7 – 25

Vitamin E (IU)

0,25 – 1

Carotenes (vitamin A) (IU)

18 – 22

Calcium (mg)

20 – 25

Iron (mg)

0,1 – 0,3

Phosphorus (mg)

2 – 7

Magnesium (mg)

3 – 12

Sodium (mg)

15 – 40


More information on noni.
This article was endorsed by
Vicente Martínez Centelles
- Founder of the web and director. Teacher of natural sciences, expert in plants, natural remedies and botanical photography.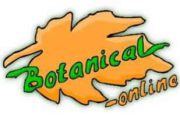 Written by
Editorial
Botanical-online team in charge of content writing