MEDICINAL AND TOXIC PROPERTIES OF TANSY PLANT
CHARACTERISTICS OF TANSY PLANT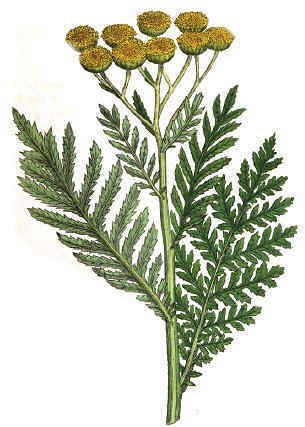 Scientific noun: Tanacetum vulgare, Chrysanthemum vulgare
Common noun: Tansy, golden-buttons
Description: Perennial plant of the Daisy family – Compositae-, up to 1 m. Erect stems, reddish, growing up from spreading suckers. Alternate compound leaves, dark green. Down ones, petiolated; upper ones, sessile. Ending flat flowers, till 2 cm, without ligules, gathered in corymbs. Cultivated fields, side of the roads and uncultivated fields. It is a plant with strong unpleasant odor.
Active principles of tansy plant
Tanacetin
Camphor
Artemorin
Parthenolide
Tannins
Acids: oleic, linoleic, malic, caffeic and tartaric
Pinene
Camphene
Active parts:
Leaves, stems and flowers.
Uses of tansy plant
Medicinal properties
Internally, it has been used medicinally to facilitate the menstruation, avoiding the pain sometimes associated with it (emmenagogue). (Infusion of a small spoonful for cup of water. A couple of cups a day)- Some primitive communities have used the oil to provoke abortion.- Beta-thujone has vermifuge properties that can be used to eliminate pinworms or tapeworms . (Infusions to 5% of the seeds or of the dry flower heads)- Its flowers have been used as depurative to treat the accumulation of liquids and the pain produced by gout (Infusion of half a spoonful of dry heads for each cup of water. Drink a couple of cups daily)

– The essential oil in very small dose has been used because of its tonic and stimulating qualities, especially in stomach aches affected by flatulence and intestinal spasms.

– It seems that the oil would also exercise soothing properties that would reduce the spasms of the stomach taken place because of nerves or anxiety or they would be used to calm epilepsy attacks. However, given the toxicity of the oil, these applications have many times finished producing episodes of intestinal irritability, violent vomits, more violent epilepsy attacks or even very serious general intoxications.

Externally, its essential oil can be used to carry out massages to diminish the pain in articulations because of arthritis or gout. It's its content in camphor of its essential oil which grants it this property. Its leaves, once mashed and heated, have also been used to be put on on the articulations with the same purpose.
Due to its high toxicity, it is advised not to take homemade preparations carried out with tansy. This herb should be reserved to the preparations carried out by qualified people, since the quantities that should be administered are very near to the toxic dose. In any case it should be administered to pregnant women, since it can make them abort easily.
Other properties of Tansy plant
Culinary: Tender leaves are eatable and they can be eaten as any vegetable. Sometimes in the kitchen of the north of Europe they are used to give flavor to pastries. It is said that they provide a similar flavor to nutmeg In Jewish Easter this grass was used after Lent because of its purifying properties. The reason of this tradition seems to be centered in the fact that the diuretic properties of the green leaves of tansy would be very appropriate to eliminate the excess of salt accumulated in the organism, after the diet of salted fish that they maintained during Lent. Even in Anglo-Saxon tradition there was a similar custom which consisted in using the tender leaves of this grass to carry out pastries in Easter that would respond to the same purpose.
Insecticide: Many principles are extracted from this plant that are used in the composition of some insecticides.

Symbolic gardening: This plant has been considered the symbol of immortality. It has probably been its capacity to maintain the flower on the plant during practically three months (It flourishes from final of June until September), or the fact that it takes a lot to wither, even in case it has been cut, which has suggested this legend. So, in gardening it has been used fundamentally to decorate tombs. Its scientific name Tanacetum comes from the Greek word " Thanatos " (God of the death). It is said that tansy was the plant which Zeus used to transform Ganimedes into immortal.
Toxicity of tansy
High. Intoxications have usually taken place after ingesting too high doses of its toxic active principles by means of some infusion or, especially, because of the essential oil. In this case, a superior dose to 2 gr. is toxic. 15 gr. are mortal for an adult.
A possible risk of dermatitis exists if we get in contact with it. It is also a plant that can produce breathing allergies due to artemorin, which is a very known allergenic.
Symptoms: Stomachache, salivation, diarrhea, liver problems. In high doses, slowing of heart rate, convulsions, cardiorespiratory failure and death.


More information about medicinal plants.
This article was endorsed by
Elisenda Carballido
- Dietitian nutritionist. Postgraduate in Phytotherapy and master in Nutrition and Metabolism.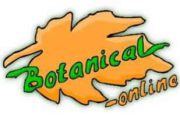 Written by
Editorial
Botanical-online team in charge of content writing