CHARACTERISTICS OF OBESITY
What is obesity?
Obesity is a metabolic disorder consisting of a body overweight caused by accumulation of fatty tissue.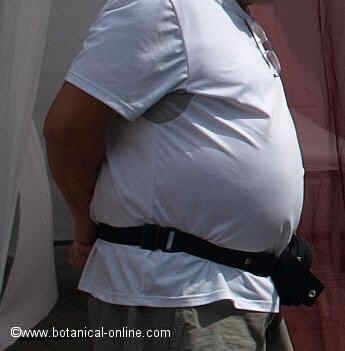 Excessive accumulation of fat, which causes obesity, occurs in men mainly in the abdominal area
People with obesity are more likely to suffer from certain health problems such as metabolic diseases (diabetes,…), cardiovascular diseases (hypertension, cholesterol,…), respiratory diseases (apnea,…), etc.
Pre-existing conditions such as fibromyalgia, fatigue, or arthritis can be aggravated with obesity.
* See What is your ideal weight?
Obesity problem in the world
Obesity is an increasingly prevalent health problem in many societies around the world, both in rich and poor societies.
Over the past 30 years, obesity around the world has almost doubled. 9.8% of all men in the world are obese (about 205 million) and 13.8% of women worldwide are obese (297 million). Some 1.460 million men and women around the world are overweight.
Countries with more obesity in the world
The country with the lowest overall obesity rate is Japan, which has a lower BMI (22 for men and 24 for women). The thinnest women in Europe are found in Switzerland, followed by France and Italy. The thinnest men in Europe are the French.
According to a study published by Lancet on 5-2-2011, Nauru Island, a small island of 14,000 inhabitants in the South Pacific, is the place with the most obese people in the world, followed by the United States.
Among Hispanic countries, Mexico leads the list of obesity, followed by Spain, Argentina, Cuba and Brazil. Among rich countries, the country with the most obese people is the United States, followed by New Zealand.
The Democratic Republic of the Congo is the country with the weakest men, while the Republic of Bangladesh would have the thinnest women.
* See: List of countries with the world's fattest men and women
Symptoms and consequences of obesity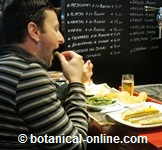 Many times obesity is accompanied by bad eating habits such as eating too fast, with television, industrial or fried foods, not chewing, etc.
Obesity is seen with the naked eye by the physical aspect of the person who suffers it, characterized by a disproportionate increase in body fat mass. However, there are a series of symptoms that inform us if we hide in a situation of being overweight or obese. Among the most important we have the following:
– Excessive sweating
– Fatigue with little effort
– Excessive thirst sensation
– Difficulty at dressing or wearing
– Problems to do certain jobs that were previously affordable
– Etc.
How do you know if your weight is the ideal weight?
To calculate the ideal weight we use the "The body mass index (BMI)", invented by the Belgian Adolphe Quetelet between 1830 and 1850. It consists on a series of calculations in which our body weight is divided by the square of our height.
More information about how to apply this method in " The ideal weight" of the above listing.
Causes of Obesity: Why Do We Get Fat?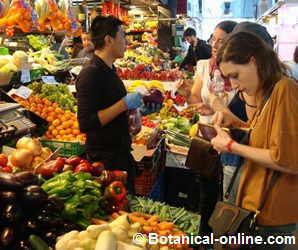 Photo of woman buying vegetables at a market. A correct diet should include at least 5 servings of fruits and vegetables a day.
The main causes of obesity are:
– Nutritional education: Most obese people have a diet too rich in calories for their energy needs.
Reduced intake of natural foods and increased consumption of industrial products (bakery, cookies, sugary cereals, sweets, snacks, chips, fritters, sugary drinks, etc.) is one of the causes of the epidemic of obesity.
A recent study in the United States on a population of 979 school-age children has shown that children whose mothers worked during this time had higher rates of obesity.
The authors of the study conclude that this is probably because mothers or fathers who worked did not have as much time to buy and prepare healthy food and provide their children with quick meals with many more fats and calories.
– Inadequate diets: Having bad eating habits is aggravated by trying to correct this tendency with bad eating habits, the use of miracle diets, too low calorie diets, protein diets, Dukan, Atkins, etc.
In addition, most of these types of unbalanced diets entail a yo-yo or rebound effect, that is, people recover more pounds than they lost, after the diet.
Recently, a scientific study has pointed out that the consumption of light foods (with artificial sweeteners like aspartame, sucralose or saccharine) may favor the appearance of obesity.
– Sedentary lifestyle and lack of exercise: It involves burning fewer calories and, therefore, it contributes to increase obesity. It is recommended to walk 1 hour a day.
– Anxiety for food: Stress or anxiety produces a convulsive need to ingest food above our caloric needs.
Particularly interesting is the fact that a person who quits smoking usually averages between 2 and 4 kilos as a result of the anxiety that causes the abandonment of tobacco and that leads to a series of negative eating habits. (More information: Quit smoking?)
– Genetic inheritance: Some people have a tendency to gain weight due to genetic causes. Some genetic abnormalities may be responsible for certain cases of obesity.
For example, Paolo Gasparini, a geneticist, thinks that the deficiency of some people in appreciating the bitter taste leads to the ingestion of stronger products that lead to an increase in weight (bitter chocolate, strong beer, liver,, etc). According to this specialist, the problems to detect this flavor are due to a genetic mutation that affects a third of the inhabitants of Europe.
– Endocrine disorders: Certain endocrine diseases, such as thyroid disorders, for example, can trigger or promote obesity.
Consequencies of obesity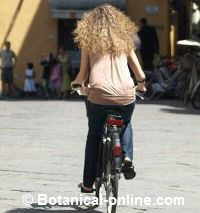 Photo of woman riding a bicycle. Having a non-sedentary life helps avoid obesity
Obesity predisposes the appearance of a series of physical ailments that make the obese individual to have a life expectancy below 10 years or more in respect to non-obese individuals. The most common diseases associated with obesity are:
– Diabetes
– Hypertension.
– Colon or pancreas cancer
– Kidney Diseases.
– Gout.
– Prostatitis.
– Varicosis.
– Cardiovascular problems
Treatmet of obesity
The change in eating habits is the best way to treat obesity.
There are many factors that can help fight obesity:
Changing eating habits (replacement of high-calorie foods with lower calorie foods)

Appropriate dietary study: Professional advice by a qualified nutritionist or dietitian

Usual practice of some kind of physical activity, etc. Professional counseling by a physiotherapist

Psychological or psychiatric treatment if required
The natural treatment of obesity involves using a series of natural resources that help prevent and combat this disease.

More information about obesity natural treatment.
Characteristics of obesity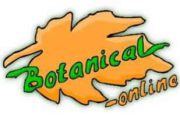 Written by
Editorial
Botanical-online team in charge of content writing