What is a Barbados cherry tree?
Characteristics of barbados cherry
Common English name: Barbados cherry, West indian cherry, wild crepe mirtle
Spanish: acerolo, acerollera o o azarolo.
The fruits are called: acerola, Barbados cherry fruit
The origin of the common name "acerola" is due to the similarity of the fruit with European azarole o azerole (Crataegus azarolus), so the Spanish colonists gave him the same name "acerola" to the plant.
Botanical name: Malpighia emarginata D.C.
– Taxonomic Synonyms: Malpighia glabra L., Malpighia L. punicifolia
Family: Malpighiaceae
Origin: plant native to southern Mexico, Central America and the northern part of South America. Native Americans spread their seeds through the Antilles as carrying fruit on their trips.
Habitat: shrub species that grows in tropical and subtropical areas.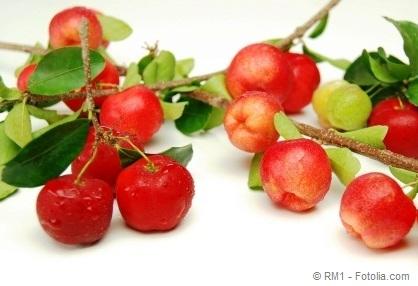 Branches with fruit of acerola, rich in vitamin C.
Description of Barbados cherry
Barbados cherry or acerola (Malpighia emarginata = Malpighia glabra) is a perennial shrub belonging to the family of Malpighiaceae. The plant receives interest in the enormous wealth in vitamin C fruit, known as acerola cherries.
Semi-postrated or erect shrub, 1.5 – 3m. Tall and dense foliage. Branched, with short secondary branches
Its leaves are stalked, elliptical or oval, obtuse apex, 2 to 10cm long. 1-6 cm wide. Dark green and shiny. They have fine hairs.
The inflorescence is a cyme, growing from the leaf axils. Shortly stalked flowers in little groups of 2-5.
– Parts of the flower: calyx with five sepals and five white or pink petals. 10 stamens, one pistil with 3 carpels.
Barbados cherry fruit is a drupe, globose, somewhat flattened, 1 – 3cm. wide. Fruit skin is thin and fragile, orange or purple and very rich in nutrients.
Fruit pulp is fleshy, sweet and very acidic. Its juice contains an astounding 1,000 to 4.000mg. vitamin C per 100g. (Depending on the degree of maturity, the more mature, the less vitamin C).
To illustrate the richness in vitamin C of acerola, quote, for example, two oranges juice contains 120mg. vitamin C. The recommended daily allowance of This vitamin stands at 60 – 100mg.
Inside, the fruit contains 3 seeds.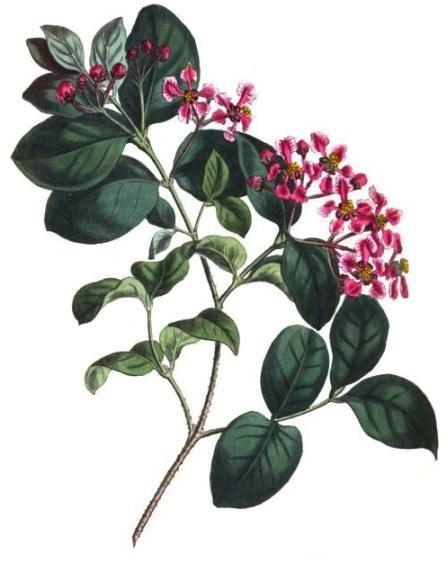 Illustration of a tree branch with flowers.


Used parts
– Fruits, wood and bark.
Uses of acerola or Barbados cherry tree
USE AS FOOD
Acerola fruit can be eaten fresh, although, due to its very acidic taste, it is generally little consumed in this way. Seeds must be removed for consumption.
Curiously, the fruits of acerola were not recognized as edible until 1903, and its vitamin value was discovered in 1945.
Fruit juices, jams, compotes, candies and jellies: These are some the elaborations that can be prepared with this fresh fruit. These should be prepared within 2 days after harvest, as the fruit over time loses its distinctive flavor.
Leather: Because it contains tannins, bark has been used in the leather industry.
MEDICINAL USES
– The bark of the acerola is rich in tannins (20-25%) and is used in infusions to treat diarrhea. This fruits also contains a lot of tannins that can be used for the same purpose. Tannins are harsh taste in the mouth and form a protective layer of the digestive mucosa, so the juices and teas can be used for sore throat, for reflux and gastritis.
– The fruits are one of the richest sources of vitamin C in nature, and, as such, they will provide numerous health properties. They are used in the treatment of liver diseases, respiratory diseases, to increase inmunity, arthritis, iron deficiency anemia, stress and as anti-aging fresh food.
OTHER USES
– It has a very hard and heavy wood.
– It is an ornamental plant with a dense foliage.
Composition of acerola or Barbados cherry fruit
The fruit is noted for its high content of vitamin C. Its content varies with the degree of maturity: unripe fruits are rich in vitamin C. The sun exposure, processing and storage reduce the vitamin content.
(* Further information: see Table of vitamin C of this food).
The aroma of the fruit is because the compounds: 2-furfural, heptanoic acid, esters, phenolic compounds (3-methyl-but-3-en-1-ol, 3-methyl-butan-1-ol and 2-methyl- butan-1-ol), limonene and aglycones.
Tannins
Carotenoids (40mg per 100g..): Beta carotene, neoxanthin, neoxanthin isomer, neochrome, neochrome isomer, violaxanthin, violaxanthin isomer, luteoxanthin, auroxanthin, antheraxanthin, mutatoxanthin, lutein, cis-lutein, b -criptoxanthin 5-8 -epoxide and 5-6-epoxide, b-cryptoxanthin, b-carotene and cis-b-carotene.
Anthocyanins (3.79 – 60mg per 100g..): Cyanidin-3-ao-rhamnoside, pelargonidin-3-ao-rhamnoside and quercitrin.
Flavonol (7 – 18mg per 100g..): Kaempferol, quercetin, rutin
Catechins: epigallocatechin gallate, epicatechin
Compounds in the fruit: p-coumaric acid, ferulic acid, caffeic acid, chlorogenic acid, gallic acid, coumaric acid, syringic acid, caffeic acid and ferulic acid.
Components of Barbados tree per 100 g

Nutrient

Content

Calories (kcal.)

32

Carbohydrates (g.)

6,60

Proteins (g.)

0,40

Fats (g.)

0,30

Fiber (g.)

1,10

Vitamin C (mg.)
1678
Vitamin B1 or thiamin (mg.)

0,02

Vitamin B2 or riboflavin (mg.)

0,06

Vitamin B3 or niacin (mg.)

0,40

Vitamin E (mg.)

0,13

Calcium (mg.)

12

Phosphorus (mg.)

11

Iron (mg.)

0,2

Magnesium (mg.)

18

Sodium (mg.)

7

Zinc (mg.)

0,1
Botanical classification


Kingdom

Plantae – Plants

Subkingdom

Tracheobionta
Flower plants

Superdivision

SpermatophytaSeed plants

Division

Magnoliophyta or Angiosperms. Flower plants

Class

Magnoliopsida

Subclass
Rosidae

Order

Malpighiales

Family

Malpighiaceae

Gender

Malpighia

Species

M. emarginata


More information about barbados cherry.
This article was endorsed by
Julián Masats
- Technical agricultural engineer specialized in horticulture and gardening.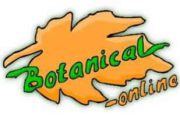 Written by
Editorial
Botanical-online team in charge of content writing