Herbal treatment of skin sagging
Phytotherapy: Medicinal plants remedies  for skin sagging
The primary role of phytotherapy in the treatment of flaccidity is to use those plants with the following purposes:
– Plants that provide the necessary nutrients to nourish the skin cells.
– Plants with firming properties, able to provide consistency to your skin.
External use preparations to get rid of skin sagging
– Fig tree (Ficus carica) To reaffirm your face skin you can make a mask with black fig pulp, to which you can add a few drops of lemon. (Apply to your face for 30 minutes and wash it with cold water)
– Lady's bedstraw (Galium verum) It is used to remove the skins hanging from the neck and face. (Make a decoction of a 30 grams of dry plant per liter of water for ¾ hour. Apply wet compresses on the chin or hanging skin of the face for 8 to 10 minutes. Then wash with cold water)
– Lime: (Citrus aurantifolia) Lime is important for skin care. Antioxidants are taken from food, as masks and skin creams can not penetrate into the inner layers of the dermis, where collagen is. Taking foods rich in vitamin C protects collagen, resulting in brighter skin with fewer wrinkles and sagging, younger looking. (Infusion of a teaspoon of dried leaves or a piece of lime rind, 3 times a day. Take lime juice 2-3 times a day).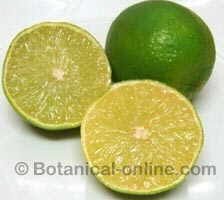 Lime
– Melon (Cucumis melo) Melon tones the skin and prevents sagging or improves it. Those people with hanging wrinkles in the neck, arms, legs and so on. can regain some of its firmness and smoothness applying a gauze soaked with melon juice to the hanging part of the body.
– Oats (Avena sativa) You can perform a firming face mask by mixing oatmeal and honey in equal parts. Add an egg yolk. Apply for ¾ hour and clean with cold water.
– Apple (Malus domestica) Apple juice is used for massaging flaccid areas (Mix half a cup of apple juice with half a glass of melon juice. Massage the soft tissues.)
Related information: Dry skin remedies, wrinkles remedies, masks for wrinkles.

More information about skin sagging and its natural treatment.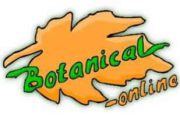 Written by
Editorial
Botanical-online team in charge of content writing