How to prepare rosemary and ginger infusion and its medicinal properties
What is the infusion of rosemary and ginger for?
The infusion of rosemary and ginger is a medicinal preparation that has powerful digestive, antibiotic, antivomitive, anti-inflammatory and analgesic properties.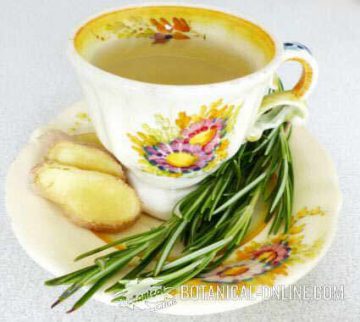 This infusion combines two powerful medicinal plants, which have the following properties:
Stimulating properties
Antibiotic properties
Hepatotonic
Digestive, it stimulates salivation
Remedy for dry mouth
Powerful anti-inflammatory
Properties of rosemary and ginger infusion
Rosemary and ginger are two powerful natural anti-inflammatory and antibiotic plants, along with turmeric. Women can use this infusion to reduce menstrual pain at that time of the month.
In addition, this infusion has antioxidant and hepatotonic properties that are very suitable for liver cleansing diets, to help this organ in its functions and reduce inflammation in the body: fatty liver, obesity, diabetes and high cholesterol. In this sense, it is worth mentioning that for this infusion to be effective, of course, the treatment must be combined with an anti-inflammatory diet.
The infusion of rosemary and ginger is also very suitable in cases of respiratory infections and fever, as it stimulates sweating, helps reduce fever, and also provides powerful antibiotic principles such as gingerols from ginger and carnosol from rosemary. It is therefore indicated in cases of bronchitis and cough.
Taken after eating, it is digestive and prevents flatulence problems. It is an excellent antivomitive and is especially recommended for people with gastritis problems due to Helicobacter pylori, as a powerful natural antibiotic.
How to prepare rosemary and ginger infusion?
Ingredients of the rosemary and ginger infusion:
1 teaspoon of dried rosemary leaves.
2 small slices of fresh ginger rhizome, preferably organic. To make an infusion, the recommended amount of fresh ginger is about the size of a hazelnut.
Water.
Preparation of rosemary and ginger infusion
The rosemary and ginger infusion is prepared as follows:
Cut a piece of fresh ginger root (approximately 10 g per cup).
Peel the ginger and cut it into slices. Ginger can also be added as follows: Grate the root and squeeze the juice directly into the infused water.
Put water on to boil.
Before the water boils, add the ginger and rosemary, turn off the heat immediately after boiling.
Cover and let stand 8 minutes before serving.
Strain and serve.
*Related information: Herb tea infusion preparation / How to make rosemary infusion / How to prepare ginger infusion / Thyme and ginger infusion properties
Why is it important to cover the infusion with rosemary?
Surely many people have noticed that, when uncovering an infusion, shiny droplets appear on the surface of the liquid. Those droplets are the essential oil of the plant. If infusions are not covered, the essential oils, which are very volatile, evaporate. Therefore, the infusion should be covered to better preserve the essential oils of rosemary. Therefore, the infusion should be covered to better preserve the essential oils of rosemary.


More information on contraindications and uses of ginger and rosemary
This article was endorsed by
Elisenda Carballido
- Dietitian nutritionist. Postgraduate in Phytotherapy and master in Nutrition and Metabolism.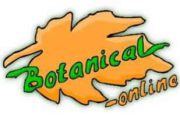 Written by
Editorial
Botanical-online team in charge of content writing