Anti-inflammatory food: Diet against inflammation
What is an anti-inflammatory diet?
An anti-inflammatory diet aims to control the type and amount of fat in the diet, managing plants and foods with anti-inflammatory properties.
"Let your food be your medicine and your medicine be your food" (Hippocrates)
What is an anti-inflammatory diet useful for?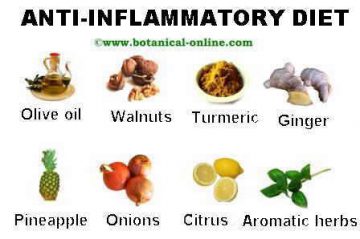 This diet is very beneficial for the following cases:
Bronchitis and obstructive pulmonary disease
Menstrual pain and premenstrual syndrome
Sore ovaries or oophoritis
And other diseases of inflammatory character.
DIET TO TREAT INFLAMMATION
Fats with anti-inflammatory properties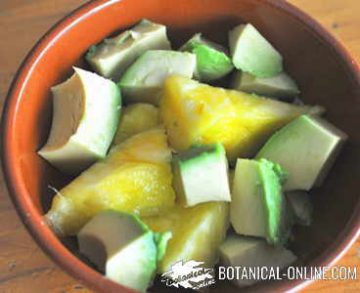 Sometimes you may have experienced a sharp pain. For example a prick in a joint, which disappears after a few days without apparent cause.
This effect occurs because the body is able to manufacture its own anti-inflammatories from essential fatty acids. These fats must be supplied by food.
The fats in our diet should be mainly: Extra virgin olive oil, oily fish (in case of non-vegetarian diets), avocados and nuts (walnuts, hazelnuts and almonds).
With these foods, the body has the necessary "ingredients" to make their own anti-inflammatories. (That is, that the body converts omega-3 into anti-inflammatory prostaglandins).
These foods also provide us with tocopherols or vitamin E, with anti-inflammatory properties, and protect cell membranes from the adverse effects of inflammation.
Vegetables also provide certain dose of omega-3, such as borage and purslane.
Food and plants with anti-inflammatory effects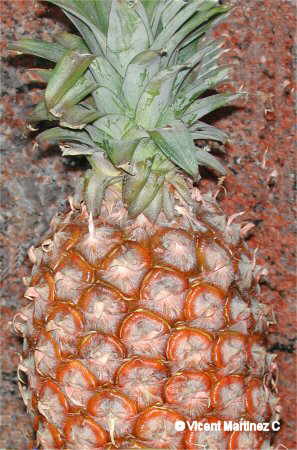 Some plants and foods are very suitable because of their anti-inflammatory principles:
Turmeric: It contains curcumin, an anti-inflammatory principle. It has been shown to be more effective when combined with pineapple, also anti-inflammatory.
Herbs rich in thymol (lemon, savory, oregano, thyme, basil): thymol has demonstrated anti-inflammatory effects.
Ginger: Ginger is one of the best anti-inflammatory and painkilling plant remedy. Ingestion of this food reduces inflammation and relieves pain caused by inflammation.
Pineapple: This is an anti-inflammatory fruit par excellence. Pineapple contains bromelain, an enzyme with anti-inflammatory and anti-arthritic properties. Scientific studies confirm the anti-inflammatory effects of pineapple. Its effect is greater when combined with turmeric.
Raw fruits and vegetables
Consumption of raw vegetables, salads and fruits, is essential in the daily diet for its vitamin C. Deficits of this vitamin can accentuate pain. They also provide antioxidants to counteract oxidative effects of inflammation:
In addition to the aforementioned benefits of pineapple, other fruits recommended are: Pomegranate, peppers, blueberries, onions, limes, lemons, kumquats (kumquats), oranges, apples, tomatoes, watermelon; and orange foods such as peaches, carrots, pumpkin, mango and papaya.
BAD FOOD FOR INFLAMMATION
Inflammatory foods: industrial products and animal fats
We must avoid inflammatory foods, such as  those rich in saturated fats. Industrial products and meat products contain this type of fat: sausages, pates, butter and pastries, etc. also avoid grocery popcorn bag and margarine (it contains trans fats). (There are trademarks of margarine without trans fats, we must look at the labels).
Take non-fatty dairy to avoid fat and cholesterol (avoid fatty cheese, whole milk, whole yogurt, etc.). Fat milk is mostly saturated. From saturated animal fats, the body produces some inflammatory substances called prostaglandins. For this reason, we should avoid fat from these foods.


More information on natural anti-inflammatories
This article was endorsed by
Elisenda Carballido
- Dietitian nutritionist. Postgraduate in Phytotherapy and master in Nutrition and Metabolism.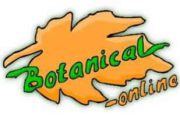 Written by
Editorial
Botanical-online team in charge of content writing