Kumquat medicinal properties and benefits
Characteristics of kumquat
Common English name: kumquat or cumquat
Common name in other languages: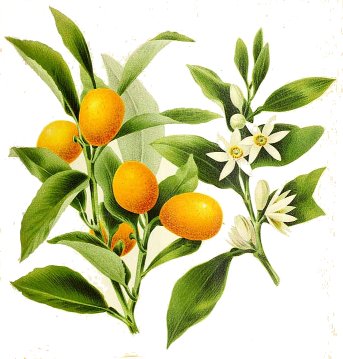 Plant illustration
– Spanish / Castellano: kumquat, cumcuat, quinoto, naranja de la China, naranja enana, kin-kuit, kin-kan
– Catalan / Català: Cumquat
– Galician / Galego: Kumquat,laranxeira anana,laranxeira chinesa
– Portuguese / Português: Quincã, cunquate, xinxim
– Basque / Euskara: Kumquata
– Italian / Italiano: Mandarino cinese, kingen
– Romanian / Română: Kumquat
– French / Français: Kumquat
– German / Deutsch: Kumquat, Zwergorangen, wergpomeranzen
– Polish/ Polski: Kumkwat
– Hungarian / Magyar: Kumkvat
– Danish / Danks: Limequat
– Dutch /Nederlands: Kumquat
– Norwegian /Norsk bokmål: Kumquat
– Finnish /Suomi: Kumkvatit
– Swedish /Svenska: Kumquat
– Turkish / Türkçe: Kamkat
– Русский / Russian: Кумкват
Scientific name: Fortunella spp. Some botanists do not consider this genre and include the species within the genus Citrus.
Family: Rutaceae – citrus family
Origin: North of China
Habitat. Where to find kumquats?
Subtropical shrub native of China, Japan and the Philippines. It is now cultivated worldwide and it is used for ornamental purposes.
Description of kumquat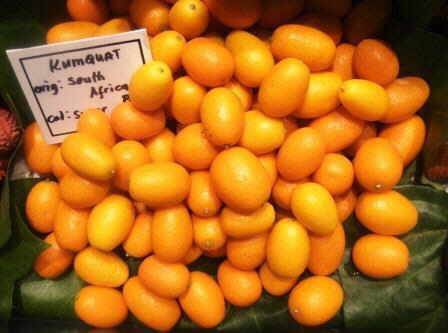 Photo of kumquats fruits in a market
Small evergreen shrub, that can reach 2 – 4m. tall.
The trunk is very branched and may have thorns.
Dense foliage dark green. Leaves simple, alternate, entire and glabrous.
Flowers solitary or in corymbs, hermaphrodite, with white petals and very fragrant.
The fruits are small fleshy berries (1-2cm. Diameter). They resemble tiny oranges. The skin is covered by oil glands containing a lot of essential oil. The fruit is divided into cells (segments). The flesh is yellowish orange, very acidic and aromatic. The kumquat is eaten whole, including the skin.
Classes and varieties of kumquats
There are different species of kumquats (Fortunella spp.): "Nagami" (elongated fruit) (F. margarita); "Marumi" (rounded off) (F. japonica); "Meiwa" (large and elongated fruits) (F. crassifolia); "Hong Kong wild" (F. Hinds).
There are also "limequats" a kind o kumquat resulting from hybridization with a species of kumquat and a lime (Citrus aurantiifolia).
Kumquat composition
Essential oil (leaves and fruits): Limonene (60 90%), myrcene (2%), ethyl acetate (1%), alphapinene, germacrene, linalool, carvone, betapinene, carene, camphene, terpinen 4ol.
Organic acids: chlorgenic acid, ferulic, sinapic,?coumaric acid and caffeic acid.
Flavonoids: diosmin, quercetin, rutin, xanthophylls (betacryptoxanthin), chalcones, apigenin, acacetin, vitexin, isovitexin, gammaeudesmol, elemol and betaeudesmol
MEDICINAL PROPERTIES OF KUMQUAT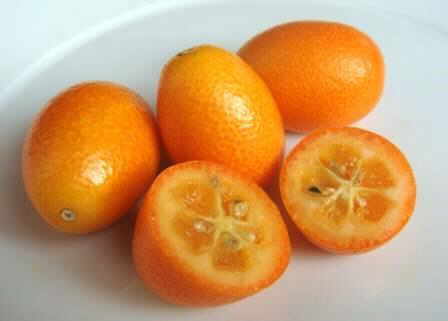 Image of kumquats
kumquats are small shrubs widespread for ornamental purposes. They belong to the same family as the orange or lemon, but, in the kumquat, the fruits are eaten whole (with skin). The flavor of kumquats is slightly different from other citrus, it is more acidic and spicy (due to the richness in essential oils of the skin).
The fruit contains pectin fiber, vitamin C and essential oils rich in limonene (especially in the skin), which is with attributed with antidiabetic, antibiotic, expectorant, anti-inflammatory and soothing properties. Among its medicinal properties we can point out:
Internal use preparations with kumquats for respiratory diseases
A kumquat, because it contains pectin, vitamin C and essential oils, it has antitussive, antiinflammatory and antibacterial properties that make it very suitable for treating respiratory conditions:
Kumquat for cardiovascular System
Kumquats, being the only citrus fruit that are consumed with the skin, that is rich in essential oils, provide all the benefits of flavonoids .
Flavonoids contained in the skin are more abundant that in juice because flavonoids do not dissolve in the liquid and are more assimilable.
Kumquats juice is rich in vitamin vitamin C. These components provide appropriate properties for people with cardiovascular system anomalies such as:
Poor circulation: Scientific studies have shown that the skin of kumquat has components with antihypertensive properties (to help treat hypertension), with antioxidants and components to promote circulation. Antioxidants help maintain the strength and elasticity of blood vessels and prevent blood clots.
Cholesterol: One study showed how flavonoids in the skin of kumquats reduced bad cholesterol in mice and increased good cholesterol levels. These results suggest that taking kumquats in the diet for the heart protects against bad cholesterol and reduces the risk of cardiovascular disease.
Kumquat, a good fruit for diabetes
Kumquat is considered a suitable food for diabetes. kumquat flavonoids, which are found mainly in the skin of this fruit, have antidiabetic properties.
This is demonstrated in a study that was daily administered to diabetic rats.
The results showed that mice fed with kumquat reduced their blood sugar levels. Kumquats also help prevent complications for diabetic patients as cataracts, glaucoma and hypertension.
Kumquat leaves tea as a sedative remedy
Kumquat can be considered a tranquilizer remedy. Kumquat essential oil is rich in limonene, with sedative and tranquilizing properties.
The tea leaves are used to treat upset stomach and cramps of nervous origin. (Infusion of a teaspoon of dried leaves three times a day or take the fruit in the diet)
CLASSIFICATION OF KUMQUAT


Kingdom

Plantae – Plants

Subkingdom

Tracheobionta

Vascular plants

Superdivision

Spermatophyta

Seed plants

Division

Magnoliophyta

Flower plants

Class

Magnoliopsida

Dicotyledonous

Order

Sapindales

Family

Rutaceae

Subfamily

Citroideae

Tribe

Citreae

Gender

Fortunella

Species

Fortunella spp.


More information on kumquat.
This article was endorsed by
Elisenda Carballido
- Dietitian nutritionist. Postgraduate in Phytotherapy and master in Nutrition and Metabolism.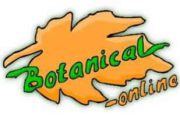 Written by
Editorial
Botanical-online team in charge of content writing